Clare Carlson returns in R.G. Belsky's latest novel, The Last Scoop
Clare Carlson is the journalist and amateur sleuth in R.G. Belsky's terrific series. I'm thrilled to have R.G. on my blog this week talking about the third book in the series, his other projects, and what's next for his hard working heroine. Read through to the end to find out how I appear in the The Last Scoop!
Don't miss my last interview with R.G. for his previous novel, Below the Fold, click the link here to read.
---
The Author
R.G. Belsky is a former managing editor at the Daily News and writes about the media from an extensive background in newspapers, magazines and TV/digital news. He has also been a top editor at the New York Post, Star magazine and NBC News.
Previous books in the Clare Carlson Series include: Yesterday's News and Below the Fold. He also wrote the Gil Malloy Series, about a newspaper reporter at the New York Daily News and writes under the pen name, Dana Perry.
For more information about R.G., click on his name or photo or any of the following links: Twitter, Facebook, and Instagram
---
The Book: Clare Carlson #3
The scariest kind of serial killer—one you don't know exists
Martin Barlow was Clare Carlson's first newspaper editor, a beloved mentor who inspired her career as a journalist. But, since retiring from his newspaper job, he had become a kind of pathetic figure—railing on about conspiracies, cover-ups, and other imaginary stories he was still working on. Clare had been too busy with her own career to pay much attention to him.
When Martin Barlow is killed on the street one night during an apparent mugging attempt gone bad, it seems like he was just an old man whose time had come.
But Clare—initially out of a sense of guilt for ignoring her old friend and then because of her own journalistic instincts—begins looking into his last story idea. As she digs deeper and deeper into his secret files, she uncovers shocking evidence of a serial killer worse than Son of Sam, Ted Bundy, or any of the other infamous names in history.
This really is the biggest story of Martin Barlow's career—and Clare's, too—as she uncovers the path leading to the decades-long killer of at least twenty young women. All is not as it seems during Clare's relentless search for this serial killer. Is she setting herself up to be his next victim?
Clare Carlson is perfect for fans of Sue Grafton's Kinsey Millhone and Sara Paretsky's V.I. Warshawski
---
The Interview
The Clare Carlson Mysteries center on a TV journalist-turned-amateur-sleuth. As a professional journalist yourself, with years of experience in print, online, and TV, what kinds of changes do you have to make to the "reality" of the journalism world to keep your books so dynamic and engaging?
My advice is always keep it real, but not too real, that's pretty much the way I feel.
Yes, I draw on my journalistic background to provide a lot of real newsroom details in The Last Scoop and my other mystery novels. Especially the intensity, the energy and craziness of reporters chasing after a sensational headline story.
But much of it is not totally true to life because this is a murder mystery—not a "how to" guide for journalists. Like I said [at a recent book event], I never have heard of a journalist who singlehandedly solved a murder case—but Clare, like so many other fictional protagonists, does that in every book. So she is not a "real" character —but she is based on real people and events I have experienced in newsrooms.
One final thing: I always loved the Raymond Chandler story on this topic. A reviewer once criticized Chandler's iconic Philip Marlowe character as being "unrealistic" as a private investigator. "No real life private gets hit over the head with a sap every time he walks into a room or has a beautiful blonde client regularly coming to his office." That's right, Chandler replied, Philip Marlowe is not a realistic private investigator. "But if I wrote about what a real private investigator does all day, no one would read the books." As usual, Chandler said it perfectly.
---
"A number of the reviews for The Last Scoop have said that it can be read easily as a stand-alone —but the references to previous books made the reviewer want to go back and read them too."
---
The Last Scoop is the third in the series but can also be read as a stand-alone. How do you approach writing a series so that you can provide continuity for your previous readers, but also appeal to readers starting with a later book?
Each book is meant to be read as a stand-alone, and I think I've accomplished that. The story—and the plot line—is individual for the book. It all starts and ends with the pages of that novel.
Where it gets trickier is the back story of Clare, involving her personal life. I need to write about that in a way which indicates previous things have occurred in the earlier books—but not necessarily requiring the reader to go back to those books to understand.
A number of the reviews for The Last Scoop have said that it can be read easily as a stand-alone —but the references to previous books made the reviewer want to go back and read them too.
Now that's what an author like to hear!
Clare's mentor Martin Barlow launches events in The Last Scoop, did you have a mentor like Martin? Or have you mentored younger journalists like Clare?
Yes, to both questions, Elena. I've had mentors like Martin Barlow and I've tried to mentor a number of younger journalists after all my years in the New York City media.
The difference is I never had a single mentor like Barlow was with Clare, I had MANY of them. It would be difficult to pick out just one editor who helped my career like that. There were many along the way, and I tried to learn from each—and then pass it on to other people who worked under me when I was an editor.
I suppose you could say I was writing about myself a bit when I created the Martin Barlow character of an old journalist. Except I'm not as crazy as he was!
So, what or who was most influential in your decision to become a journalist?
In terms of whether or not any mentor was influential in my decision to become a journalist, well…that never happened. I knew I wanted to be a journalist when I was a young boy growing up. I was never sure why (maybe it had something to do with watching Clark Kent as a reporter on the Superman TV show). But I always knew what I would do for a career. And I never regretted that decision.
You write excellent female protagonists. I'm curious, do you try to write them in how you understand women think and act? or do you write them as characters who just happen to be women? I'm wondering how Clare Carlson would have been different if you'd written her as a male character?
Clare could never have been a male character because the plot of the first Clare Carlson book, Yesterday's News, is directly related to her being a woman. That book was originally planned to be a stand-alone. But people liked her enough for me to continue writing Clare as a series. So that's why she's a woman.
Having said that, I've always like writing women characters. I've written 14 novels, and 10 of them have featured a female protagonist. In many ways I find writing a female character more interesting than writing a traditional male character. Especially as a journalist, where women have traditionally had to fight harder than men to be taken seriously as hard news reporters. That provides a lot more opportunity for writing more conflict—and more drama—in a novel.
My writing of female characters goes all the way back to the first novel I wrote a long time ago. I started out by using a male reporter character to solve a murder mystery. When I showed an early draft of it to a woman I knew who worked in publishing, she said it was okay. But then she suggested: "What if you made that reporter a woman? That might be really interesting!" I did and the book just seemed to come alive for me at that point.
So I do write both men and women protagonists (my last series featured a male reporter named Gil Malloy) —but I really enjoy writing about a woman like Clare.
Tell us about Dana Perry.
Dana Perry is a pen name of mine.
I've written two thrillers under the Dana Perry name now—The Silent Victim (in the fall of 2019) and The Golden Girl (coming in early June). Both of these books feature a New York City newspaper reporter named Jessie Tucker. Jessie is like Clare in some ways, yet also very different. But if you like Clare, I think you'll like Jessie too.
I'm also going to be doing two new Dana Perry thrillers (with a different character) for 2021.
Why the Dana Perry pen name? It's basically a marketing decision. Hopefully, it doesn't confuse too many people. But Dana Perry and R.G. Belsky are the same person!
---
"I just completed a new Clare Carlson mystery…"
---
What are you working on now?
I just completed a new Clare Carlson mystery (#4) called BEYOND THE HEADLINES. It will be published in the spring of 2021.
This one is about a billionaire businessman who marries a glamorous celebrity, and then is found murdered. Did the celebrity kill him for his money—or is she being framed for the murder by other people trying to get their hands on his estate? That's the question Clare has to deal with in BEYOND THE HEADLINES.
The sensational story takes her out to Hollywood and even back 50 years ago to the end of the Vietnam war in her search for answers.
At the same time, she continues to deal with a myriad of issues in her personal and romantic lives which is still…well, complicated.
As readers of the series well know, Clare is a terrific journalist—but the rest of her life is pretty much of a train wreck.
---
"…nothing good can happen until you start getting words down on your computer screen."
---
Final words of wisdom for aspiring writers:
Oh, I've been asked this question by so many aspiring writers.
And the answer is so simple:
WRITE!
That's really what it's all about. Sitting down and writing that novel or short story or screenplay you're always talking about doing. It's not easy to do. But nothing good can happen until you start getting words down on your computer screen. They might not be good, but you can always deal with that later. The worst thing is to have a blank screen in front of you.
Sadly, many people don't take this advice.
They tell me after reading one of my books—I'm sure you and many authors have this same experience, Elena—that they're going to write a novel too. Then, a year later or so when I ask them about it, they haven't written a word.
So once again, my basic advice for an aspiring writer is:
WRITE!
All the rest will come after that.
Bonus question – so you know I have to ask, I LOVE Terri Hartwell's character in The Last Scoop, was I the inspiration for her or was my last name already on your radar in other ways? (For those of you who don't know, Taylor is a pen name, Hartwell is my real last name).
Ha! I wish I knew the answer to that.
Coming up with interesting and different character names is always a challenge for me, and I guess I must have simply liked the name Hartwell once I met you. But it was not a conscious decision. It probably was just floating around in my head.
The same thing happened with our author friend Jim Nesbitt. I have a character in the Clare novels (a minor one) with the last name of Nesbitt. I didn't even realize that until the real Nesbitt read one of my books and pointed that out. Just like you with Hartwell. Again, I didn't realize I was doing that when I wrote the book.
On the plus side, Terri Hartwell is a pretty interesting (and likable) character in The Last Scoop.
I've accidentally used the names of other friends on more unsavory characters.
Now Elena is a pretty cool name too—maybe I should figure out a way to use that for one of my characters in the next Clare Carlson book!
---
YES! I'd love a character named Elena in an upcoming Clare Carlson book! I'm even okay with her being "unsavory" that might be kind of fun. I'll be keeping an eye out for this new character!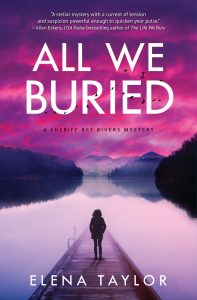 Elena Taylor is the author of All We Buried, available now in print, e-book, and audio book format at all your favorite on-line retailers. And don't forget many independent bookstores can order books for you and have them shipped to your home or for curbside pickup.
For more information on All We Buried, click on the link here to visit the home page.
Writing photo from Pixabay.