We Write Through
We Write Through is a once-a-week, free, livecast writing workshop available to writers everywhere regardless of experience or publishing history.
---
The ongoing pandemic has created a lot of challenges for all of us in our daily lives. I know it has impacted my ability to focus and tested my ability to stay upbeat. It has made even simple tasks feel overwhelming.
And I consider myself incredibly lucky, as I usually work from home and both my husband I continue to be in good health. I can't imagine the experience for those out of work or fighting the illness.
But life is still challenging in ways it wasn't before I went into stay-at-home mode on March 14 and it's hard sometimes to think everything will be okay.
---
Along with working as an author and blogger,  I also wear the hat of Senior Editor with Allegory Editing. We are committed to working with writers to improve their manuscripts and learn and sharpen writing skills. We realize how much the ongoing upheaval of our current situation is, and how much it can make the path to finishing a writing project even more difficult to navigate.
With that in mind, we have launched We Write Through
We Write Through is designed to help writers identify areas in their manuscript that they may be struggling with. It's also to teach new skills and discover alternative ways to think about the writing process. Perhaps most importantly, we can come together every Wednesday morning at 9AM PST and chat about writing and the challenges we all face.
---
It's nice to know you are not alone.
---
The first workshop went great! I haven't completely mastered ZOOM yet, but it was a terrific hour with engaged participants and excellent questions throughout.
Last week was a "traditional" workshop. I led a discussion about specific writing techniques. This coming week—May 27 @9AM PDT—I'll be hosting a Q and A.
Participants can send in questions in advance or ask questions live after we begin.
On June 3, I'll return to the "traditional" workshop style with specific topics.
I anticipate we'll go back and forth between those two workshop styles for the foreseeable future. Even after things return to "normal", we at Allegory plan to continue our Livecast workshops, in a form that best suits all our needs moving forward.
While we started these workshops with the hope it would help other writers face the challenges the pandemic has created, I learned it was exactly what I needed, to connect with other people as we travel down this very strange road.
While the workshops are free, participants must register. You can click the link here to register for any of our scheduled events. I hope you can join us weekly as #WeWriteThrough.
---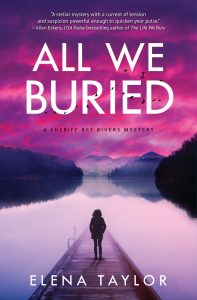 Elena Taylor is the author of All We Buried, available now in print, e-book, and audio book format at all your favorite on-line retailers. And don't forget many independent bookstores can order books for you and have them shipped to your home or for curbside pickup.
For more information on All We Buried, click on the link here to visit the home page.
---
Images:
Don't Worry from Pixabay. Click the link here for more information.
Desk work station from Pixabay. Click the link here for more information.