Thrilled to introduce author Mary Keliikoa and her debut PI Novel, Derailed.
The PI Novel has always been my go-to subgenre in Crime Fiction. I cut my teeth on Sue Grafton and wanted to be Kinsey Millhone when I was twelve. The genre continues to grow and change, but that feisty, female protagonist is still alive and well in Mary's addition to the canon.
Interested in other PI Novels? Don't forget my very own Eddie Shoes Mystery Series. Click the link here for more information.
---
The Author
Mary Keliikoa spent the first 18 years of her adult life working around lawyers.
Combining her love of all things legal and books, she creates a twisting mystery where justice prevails.
She has had a short story published in Woman's World and is the author of the PI Kelly Pruett series which debuts with Derailed in May 2020.
At home in Washington, she enjoys spending time with her family and her writing companions/fur-kids, Bella, a bossy golden retriever and August, her mischievous kitty.
When she's not at home, you can find Mary on a beach on the Big Island where she and her husband recharge. But even under the palm trees and blazing sun she's plotting her next murder—novel that is.
To learn more about Mary, click on her name and photo or any of the following links: Facebook, Twitter, Instagram, and Goodreads
---
The Book: PI Novel
"It's that perfect blend of personal and professional that makes Derailed a welcome addition to the genre. I can't wait to follow both Kelly and Keliikoa's careers."
–Kellye Garrett, Anthony, Agatha, and Lefty Award-winning author of Hollywood Homicide
"Derailed has it all: an engaging heroine, a twisty, twisted crime, and plenty of food for thought about families and their secrets. I loved this debut and can't wait to read about Kelly Pruett's next case."
–Kristen Lepionka, Shamus Award-winning author of the Roxane Weary mystery series
"Mary Keliikoa's Derailed is a humdinger of a good read. Sharp, detailed writing, a riveting plot and well-drawn characters make it practically unputdownable. And how exciting to have another tough, smart, female PI to follow. I can't wait for PI Kelly Pruett's next case!"
–Tracy Clark, author of Borrowed Time
When a single mom of a deaf daughter inherits her father's PI business and aims to prove that a young woman's death by train wasn't an accident, she finds herself on a crash course with her complicated family and a killer determined to keep the truth hidden.
To buy the book, click on the following link: Amazon
---
The Interview
Describe your publishing journey:
I wrote consistently from the age of 27 to 35.  During that time, I finished 4 novels.
Derailed is the last book I wrote during that time. I did try to find an agent during those 8 years for some of my earlier novels, but didn't accomplish that goal. At 35 I started a company with my husband and the writing took a backseat for 15 years.
Fast forward, we sold part of the company and in 2016 I pulled out Derailed and entered it into Pitch Wars. I was chosen as a mentee to the fabulous Kellye Garrett and Sarah Henning. However, that was only the beginning of this part of my journey as I didn't get an agent during agent rounds.
In fact, I subsequently received over 100 rejections and reworked the novel once again from top to bottom before I got the agent call, and then a year later, the offer for publication. From the time I pulled the novel out to publication will be 4 years.
---
"My inspiration for Kelly stemmed from my love of female PI novels…"
---
What inspired you to write this PI Novel?
The inspiration for Derailed really came from just my years of working with lawyers in downtown Portland and playing the "what if" game.
My inspiration for Kelly stemmed from my love of female PI novels in general and wanting to create someone as tenacious and resourceful as the investigators found in them.
---
The PI Novel makes for a great series. We love to follow the evolution of these characters, such as Sue Grafton's Kinsey Millhone, Patrick Kenzie and Angie Gennaro by Dennis Lehane, and V.I. Warshawski by Sara Peretsky.
---
What are you working on now?
Edits for Kelly Pruett's second novel, Denied, are already back with the publisher, so I am busy working on Book 3, Deceived, which will be due to my editor the first of the year.
---
Congratulations on your PI series! Very excited to read the second book! Looking forward to having you back on my blog for your next launch.
Header photo by ar130405 on Pixabay. Click the link here for more information.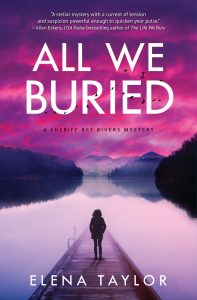 Elena Taylor is the author of All We Buried, available now in print, e-book, and audio book format at all your favorite on-line retailers. And don't forget many independent bookstores can order books for you and have them shipped to your home or for curbside pickup.
For more information on All We Buried, click on the link here to visit the home page.