Introducing Notorious Minds!
Notorious Minds Boxset available for pre-order now.
I'm thrilled to introduce this epic boxset of stories by an amazing list of authors along with a spotlight on author Karen Randau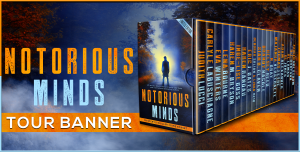 Looking for other exciting reads? Check out a variety of interviews and reviews for All We Buried, my latest release with Crooked Lane Books. Click the link here.
---
What does it take to commit the perfect crime?
Delve into these dark and twisted tales by twenty USA Today and International Bestselling Authors. No matter what kind of crime story typically catches your imagination, there's sure to be something for everyone. 
---
Discover a narcissistic grandmother running an underground syndicate, or a support group bent on murder…and even a serial killer who turns his victims into fairytale creatures. 
---
Conspiracies, political plots, and yes, even murder, are just a few of the crimes waiting inside this box set. Discover a narcissistic grandmother running an underground syndicate, or a support group bent on murder…and even a serial killer who turns his victims into fairytale creatures. 
Prepare to delve into an elite killing team who made a mistake, an oil rig filled with secrets ready to explode, and a reporter uncovering a treasonous plot.
Uncover how fatal passion, jealousy, and fear can be to a group of royal marines and learn from a detective who is far from home fighting demons from his past in order to stay alive.
Can you figure out how the police solve a killer's confession to nine murders that haven't happened yet? or how a girl that got a heart transplant became the FBI's number one ally in solving crimes?
This box set is packed with thousands of pages that will hold you on the edge of your seat, crying for answers. Definitely a must for fans of Patterson, Lee, and Grisham. One-click it today!
---
AUTHOR LINE UP: Click any name below for more information
Judith Lucci – USA TODAY AND WSJ BESTSELLING AUTHOR
Carlyle Labuschagne – USA TODAY 
Eva Winters – USA TODAY
Lena Bourne – USA TODAY
Karen M. Bryson – USA TODAY
Inge – Lise Goss – USA Today
Karen Randau – Award Winning Author
Eric J. Gates – Award Winning Author
Deborah Shlian & Linda Reid – International Bestselling Author
Sian B. Claven – Award Winning author – Check out her YouTube Video by clicking the link here.
Majanka Verstraete – International Best selling author
---
BUT WAIT THERE'S MORE……
Pre order now and you will receive their amazing pre-order gift – products are digital and printing is at reader's cost.
LINK FOR HOW TO CLAIM A PRICE: https://www.subscribepage.com/notoriousmindspreordergiveaway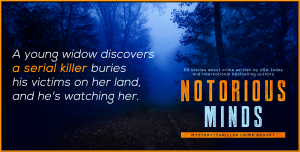 ---
PRE-ORDER PURCHASING LINKS
Amazon: https://www.amazon.com/dp/B085S2DYPH
B&N: http://www.barnesandnoble.com/s/2940163815098
Itunes: https://books.apple.com/us/book/id1502417965
Kobo: https://www.kobo.com/za/en/ebook/notorious-minds-boxset-mystery-thriller-crime
---
GIVEAWAY READING BUNDLE FOR EVERYONE
https://books.bookfunnel.com/notoriousmindsboxedsetgiveaway/mv0ohn8sb6
---
Spotlight on Karen Randau
Karen Randau: Author of the Rim County Mysteries.
A native of the southwestern U.S., Karen Randau has been writing and telling stories since elementary school. She holds a degree in journalism/public relations from The University of Texas at Austin and has enjoyed a long career in marketing communications.
After a short stint working in a psychiatric hospital, when she wrote three self-help books, Karen joined an international relief and development organization to use her skills to help people struggling with extreme poverty. She has traveled to numerous developing countries, witnessing famines, violence, and hopeful people working to overcome a generational cycle of poverty.
She loves to read and write fast-paced mysteries and thrillers, especially those with intricate plots, lots of action, and rollercoaster-like twists and turns.
To check out her YouTube video, click the link here.
---
So many mystery and thriller stories all in one place! Can't wait to dive in.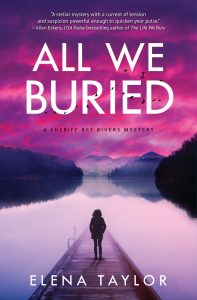 Elena Taylor is the author of All We Buried, available now in print, e-book, and audio book format at all your favorite on-line retailers. And don't forget many independent bookstores can order books for you and have them shipped to your home or for curbside pickup.
For more information on All We Buried, click on the link here to visit the home page.