Meet YA thriller author Leslie Lutz as she chats about her debut novel and what's coming next.
---
I've been reading a lot more YA and Middle Grade recently, such great stories available to kids and adults.
Interested in more books with young protagonists? Check out my interview with debut author Eliza Nellums by clicking the link here.
---
The YA Author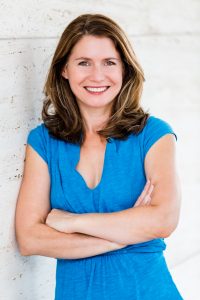 Leslie Lutz is the author of Fractured Tide (HarperCollins/Blink; May 5, 2020).
Her poetry and short fiction have appeared in various journals, including Typishly, The Lyric, Raintown Review, Kaaterskill Basin Literary Journal, and Orca.
She draws on her volunteer experiences—including her time teaching GED courses at the Atlanta Women's Prison—to tell stories that challenge stereotypes about forgotten people.
Leslie lives in Fort Worth, and when she's not writing, you can find her watching B-horror movies, scuba diving, or taking care of chickens.
To learn more about Leslie, click on her name, photo, or any of the following links: Instagram and Twitter
---
The YA Thriller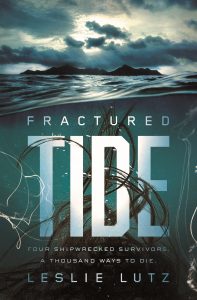 Lost meets Stranger Things in this eerie, immersive YA thriller, thrusting seventeen-year-old Sia into a reality where the waters in front of her and the jungle behind her are as dangerous as the survivors alongside her. 
For an experienced scuba diver like Sia, it was supposed to be like any other wreck dive.
Then a boat accident sends her and a handful of survivors onto the shores of a time-bending island.
The best hope for finding answers—and a way home—rests at the center of the jungle, in a flooded sinkhole that only Sia has the skills to navigate.
But if the creature lurking in the depths doesn't destroy her and the other survivors, the fractured reality within might.
---
The Interview
Describe your publishing journey:
Although I've been writing since I was a teenager, I started taking my writing more seriously about 15 years ago.
Almost a decade passed as I sporadically revised my first manuscript, hoping I'd find the right story in there and land an agent. I can't remember when it hit me or why, but I finally realized I'd been putting all my creativity and hopes into one story, and it was never, ever going to work. So I let it go—which wasn't easy—and wrote something else.
And I kept moving, finishing one project and developing the next idea. Manuscript four came with me to DFW Writers Convention, and Amy Bishop, an agent from Dystel, Goderich, and Bourret, took a chance on me. That changed everything. A year later, she sold the book to HarperCollins/Blink, and I've been celebrating ever since.
---
YA or Young Adult is a category, not a genre. The age range YA books target is 12-18, however adults and younger children can enjoy them too. 
---
What inspired you to write this novel?
I've always been fascinated with exploring the Big Blue, and my favorite dives are around the beautiful wrecks off the coast of the Florida Keys.
The way nature swallows up the bones of those ships over time is both beautiful and eerie.
One of those ships, the Spiegel Grove, stuck in my imagination and became the U.S.S. Andrews, the wreck that the main character's dive charter stumbles upon.
I also have always fantasized about what it would be like to be stranded somewhere for months and have to rely on nothing but your wits.
What would you like to be asked about your novel?
Why did you choose to have the story told as a letter from the main character to her incarcerated father?
When I spent a year volunteering once a week as a GED teacher at the Atlanta Women's prison, I went into the classroom with a lot of stereotypes about incarcerated parents that I'd picked up watching TV.
But my classroom was filled with people, not stereotypes, and reading their personal essays was a revelation to me. Most of the women wrote about their children and how much they were looking forward to seeing them next week, or how they dreamt of being with them again. I was astonished at the resilience I saw in people who live under the worst circumstances.
After that experience, I began to notice that incarcerated parents depicted on TV are usually painted in one of two ways: either they're the wrongfully accused or just plain evil. These extremes make for dramatic storytelling, but what about all those children of incarcerated parents out there who never see themselves in TV and movies?
I wanted to show a real relationship, and I hope that the love between Sia and her father comes through.
What are you working on now?
I'm working on a creepy ghost story set in the Deep South. Another bizarre ship makes an appearance, but this time the main character and her archaeologist father are excavating its bones out on the Savannah Back River, a place almost as inhospitable as the island I write about in Fractured Tide.
The main character, Charlie, is much younger than seventeen-year-old Sia, so I gave her an identity crisis that a lot of young teens experience when their parents push them in opposing directions. I'm also exploring the realm of sleep in this story and what happens when a character is put under pressure and denied this basic need.
---
This all sounds amazing! Thanks for visiting us on my blog.
Wreck dive photo by Martin Str on Pixabay. Click the link here for more information.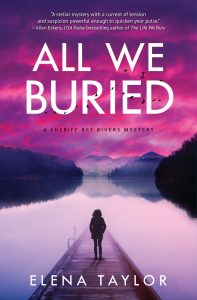 Elena Taylor is the author of All We Buried, available now in print, e-book, and audio book format at all your favorite on-line retailers. And don't forget many independent bookstores can order books for you and have them shipped to your home or for curbside pickup.
For more information on All We Buried, click on the link here to visit the home page.