Query Trenches to Debut!
Query Trenches are the dreaded experience most authors go through to launch their debut novel. To "query" is the process of sending out emails and sample of a finished manuscript to agents (and sometimes editors) with the hope that one of them will be interested enough to request the full manuscript.
Once they read the full manuscript, the hope is that that agent will offer representation.
If that agent offers representation, the author then often goes through multiple rewrites before the agent sends queries out to publishers and the process starts all over again.
Congratulations to debut author Diana Urban on surviving the trenches to launch her stellar first novel.
Love locked room mysteries? Don't miss my interview with Tessa Wegert, click the link here to read.
---
The Author
Diana Urban is an author of dark, twisty thrillers.
When she's not torturing fictional characters, she works in digital marketing for startups.
She lives with her husband and cat in Boston and enjoys reading, yoga, fawning over cute animals, and looking at the beach from a safe distance.
To learn more about Diana, click on her name, photo, or any of the following links: Instagram, Twitter, and Facebook
---
The Book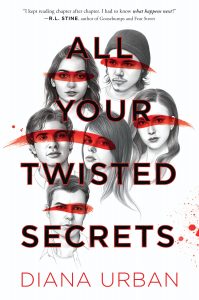 In this locked-room psychological thriller R.L. Stine called "a frightening page-turner," six teens arrive at an invite-only dinner and find themselves trapped in a room with a syringe of poison, a bomb, and a note that if they don't choose one person to kill within an hour, they will all die.
"With mystery layered on intrigue layered on suspense, Urban delivers a fast-paced, unforgettable escape room thriller—a gripping debut … I can't wait to see what Urban has for us next."
—Wendy Heard, author of The Kill Club (Want to read my interview with Wendy Heard for her debut? Click the link here)
To buy the book, click on any of the following links: Amazon, Barnes & Noble, IndieBound, for a signed hardcover copy click here, Additional purchase links click here.
---
The Interview
Describe your publishing journey:
It was a long road to publication for me. All Your Twisted Secrets is actually the third novel I've written, and I went on submission to publishers four times with three different agents before selling a manuscript. All told, it was six years and three months between finishing writing my first novel and the day my debut novel was published.
For the sake of brevity, I'll skip to how I got my agent and publisher for All Your Twisted Secrets. After parting ways with agent #2, I was eager to get my books into readers' hands, so planned to indie-publish my first novel. I even hired a copyeditor and started researching cover designers. I was ready.
Around the same time, I finished editing All Your Twisted Secrets and sent it to CPs, who said they loved it. A few told me it was the most marketable book I'd written, and encouraged me to try for a new agent. But that would mean nixing my plans to indie-pub if I signed with an agent, they'd need to pitch All Your Twisted Secrets to publishers as my debut.
After a significant amount of soul-searching, I decided to give traditional publishing one last shot. It's a dream I had for years, and if this book could make those dreams come true, I wanted to go for it.
Of course, that meant querying agents all over again.
---
"The "query trenches" are aptly named — pitching your novel to literary agents is like putting your emotions through a war zone."
---
The "query trenches" are aptly named — pitching your novel to literary agents is like putting your emotions through a war zone. The rejections are brutal, and the silence is even more torturous. But this time around, I felt more prepared to query than ever before, thanks to all the lessons I learned over the previous few years. And I ended up getting an offer of representation after three weeks and signing with my dream agent Jim McCarthy.
We did one small round of edits together before going on submission to publishers in January 2018. After a couple of months on sub, HarperTeen asked me for a partial R&R — they wanted me to change the weapon in the room and to reduce the number of characters locked in (from nine to six!).
I had a fantastic call with Catherine Wallace, who ultimately became the editor for All Your Twisted Secrets. I could hear her enthusiasm for my story and my ideas for tackling the revision. So I was willing to give it a shot, and was excited to see where it went.
After sending in the partial revision, I continued revising the entire manuscript. So by the time I got "the call" a month or so later, the full revision was ready to go. Three months later, I was able to announce the deal, and the rest is history!
What inspired you to write this novel?
One day my husband and I started speculating the shortest timespan you could set a book or movie to, throwing ideas back and forth. Could an entire book take place over just fifteen minutes? No way, that's not enough time to accomplish anything. But what about an hour? What if you locked a group of people in a room for an hour?
What if someone died at the end of the hour? What if the trapped people killed one of them? What if they had to choose someone to kill, or else they'd all die? We exchanged this look that was like, "Bingo," and I raced to my desk and started scribbling down ideas for characters I could put into this crazy situation.
Now that Diana Urban is past the query trenches for her first book . . . what's next?
What are you working on now?
While I can't get into specifics here, I will say that I finished writing two different first drafts in 2019 — both young adult thrillers — and now I'm working on revising one of these!
---
Great story of perseverance! Thank you for sharing your story with us!
Header photo by Klimkin on Pixabay. Click the link here for more information.