No Bad Deed
Wondering what I'm reading now? I'm reading this terrific debut, guaranteed to be a hit with anyone who loves domestic suspense.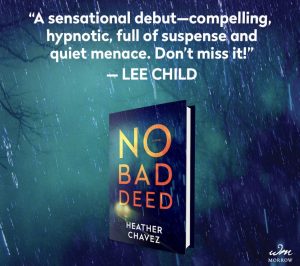 If Lee Child recommends it, you know it's going to be good!
Looking for other new books and thoughts on writing? Catch up on all my blog posts by clicking the link here. 
---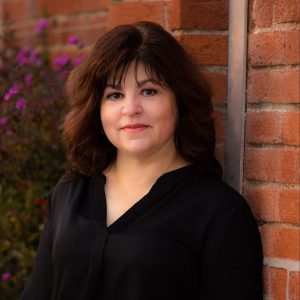 The Author
Heather Chavez is a graduate of UC Berkeley's English literature program.
She has worked as a newspaper reporter and editor and lives in Santa Rosa, California, with her family.
Her debut thriller No Bad Deed released February 18 in the U.S. by William Morrow and in the U.K. by Headline. It will also be translated into five other languages.
To learn more about Heather, click on her name or photo or any of the following links: Instagram, Facebook, Twitter, and Goodreads.
---
The Book – Domestic Suspense
Driving home one night, veterinarian Cassie Larkin sees a man and woman fighting on the side of the road.
When she steps in, the attacker warns her: "Let her die, and I'll let you live."
Trained to heal, Cassie isn't about to let the woman die. But while she's helping the unconscious victim, the attacker steals her car.
Now he has her name. Her address. And he knows about her children.
The next night, Cassie's husband disappears. Are these events connected?
As she searches for answers, Cassie discovers that nothing is as random as it seems, and that she is willing to go to the most terrifying extremes to save her family.
To buy the book, click on the link here for Amazon, Barnes&Noble, IndieBound, Books-A-Million, and iBooks
---
What Readers Are Saying About This Hot New Domestic Suspense . . .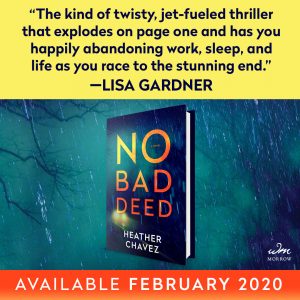 "An extraordinary thriller… that may well become the book everyone is talking about…In a mesmerizing first-person narrative, [Cassie's] fear is palpable, then vanquished by an astonishing ferocity she finds within herself. Where does that come from? Wait until you find out. This one glows in dark."- Booklist (starred review)
---
Domestic suspense is a type of thriller that focuses on interpersonal, usually romantic, relationships.
---
"[A] propulsive debut… Chavez peoples her tale with credible, flawed individuals, presenting even the multiple antagonists with harrowing backstories and convincing psychological motives… Chavez is in full command of plot and pacing… Domestic thriller fans will be well satisfied."- Publishers Weekly
"Chavez's breathless page-turner will have every aspiring Good Samaritan thinking maybe they should let the NEXT guy help."- Linwood Barclay, author of The Noise Downstairs and No Time for Goodbye
"Heather Chavez's debut novel starts at a sprint and never lets up, twisting its way to an exhilarating, you'll-never-guess-it ending."- Peter Swanson, author of Before She Knew Him
"A treacherous game of cat and mouse and a frantic race against time until the final explosive twist. Chavez has crafted the perfect thriller."- Liv Constantine, author of The Last Time I Saw You and The Last Mrs. Parrish
"Twisty, timely and absolutely terrifying, Heather Chavez' No Bad Deed is a propulsive thriller that grabbed me from the very first page and didn't let go. A terrifically suspenseful read."
– Alison Gaylin, Edgar-winning author of Never Look Back
"A sensational debut – compelling, hypnotic, full of suspense and quiet menace.  Don't miss it!"- Lee Child
---
Header Photo by Open ClickArt Vectors.  Click the link here for more information.