This week I'm branching out a bit from my usual Mystery/Thriller/Suspense authors to include a Sci-Fi thriller writer! Introducing S.L. Huang.
---
The Author
S. L. Huang has a math degree from MIT and is a weapons expert and has worked as a professional stuntwoman on Battlestar Galactica and a number of other productions.
Her short fiction has appeared in Strange Horizons, Nature, Daily Science Fiction , and The Best American Science Fiction & Fantasy 2016 .
To learn more about S.L. find her website by clicking the link here.
---
The Book
Meet Cas Russell: a retriever with special skills, she can take any job for the right price…until she takes the wrong one.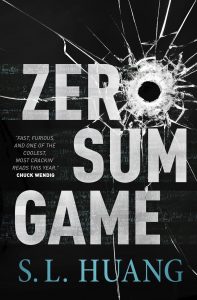 This near-future science fiction thriller features a mercenary whose genius level math prowess gives her superhuman abilities: taking down men twice her size and dodging not just fists, but bullets, too.
If you liked Trinity from The Matrix but could do without the blind devotion, meet Cas Russell.
As far as Cas knows, she's the only person around with a superpower, and she'll take any job for the right price. Then, she discovers someone with a power even more dangerous than her own.
Someone who can reach directly into people's minds and twist their brains into Moebius strips.
Someone intent on becoming the world's puppet master. Cas should run, like she usually does, but for once she's involved. There's only one problem: she doesn't know which of her thoughts are her own anymore.

You can find the book through the following links:
---
The Buzz
"Huang's series starter will have readers anxiously awaiting the next…A fast-paced, darkly humorous read with a lot of heart for fans of action and urban fantasy, as well as lovers of Wolverine and other morally ambiguous, gritty superheroes with a mysterious past." — Booklist, STARRED review
"This hard-to-put-down, action-packed SF debut is intelligent and entertaining. With Cas, Huang has created an indelible, flawed character who makes mathematics seem almost magical." — Library Journal, STARRED review
"Cas is an awesome antiheroine, sympathetic despite her practical approach to violence, and her abilities make this book exciting, nasty fun…an excellent harbinger for books to come." — Kirkus Reviews
"Fast, furious, and one of the coolest, most crackin' reads this year." — Chuck Wendig
"Cas Russell is who I want to be when I grow up. She kicks ass with her fists and her brain—a true twenty-first century action hero. I loved this book." — Richard Kadrey
"The best novel I've read this year; a heroine I fell in love with." — Eric Van Lustbader
"Intense, vivid, and insanely clever, with a great heroine. I couldn't put it down." — Yoon Ha Lee
"The smartest and thrillingest book you'll read all year." — Ken Liu
"A flat-out sprint." — Kate Elliott
---
Fun Facts
S.L. . . . 
. . . has worked with actors such as Jason Momoa, Sean Patrick Flanery, and Danny Glover.
. . . has a degree in mathematics from MIT and her favorite kinds of math are abstract, theoretical, and useless.
. . . is the first professional female armorer in the film and TV industry.  A licensed armorer decides what type of weapons fit a production and coaches actors on how to use them.
. . . is a two time cancer survivor.
. . . taught computer science at Zhejiang University and the Dalian Institute of Technology in China. Then proceeded to backpack across the country, including sharing a tent with a baby yak.
. . . is an amateur trapeze artist and car drifter. Yes, like in "Tokyo Drift."
Header Photo:  by Deepak Gautam from Pexels