Thrilled to host historical mystery author L.A. Chandlar back on my blog this week. You may remember L.A. from her debut novel, click here to read her interview.
The Author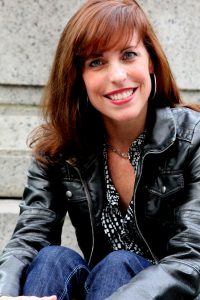 L.A. Chandlar is the National Best-selling author of the Art Deco Mystery Series with Kensington Publishing. Her debut novel, The Silver Gun released August 29, 2017, the sequel, The Gold Pawn, releases September 25, 2018. (Congratulations on the launch!!)
Laurie speaks for a variety of audiences including a women's group with the United Nations. Laurie has also worked in PR for General Motors, writes and fund-raises for a global nonprofit, is the mother of two boys, and has toured the nation managing a rock band.
For more information, visit L.A. on Facebook, Twitter, Pinterest, Instagram, Goodreads, and YouTube.
---
The Books
New York City, 1936. In the midst of the Depression, the Big Apple is defiantly striving toward an era infused with art, architecture, and economic progress under the dynamic Mayor La Guardia. But those in City Hall know that tumultuous times can inspire both optimism and danger… 
In The Silver Gun, Lane Sanders, aide to the mayor needs to solve the mystery of her past with the current threat to the mayor before someone pulls the trigger on the most explosive revenge plot in New York history.
In The Gold Pawn, when two crimes converge, judging friends from enemies can be a dangerous game.
To purchase the books, click the link here.
---
The Interview
How did your experience of writing a novel change between writing book one and book two? 
Well, for me, the biggest change was between books two and three. When I was first writing The Silver Gun and going through the agent search process, I didn't stop while I searched. I kept writing because I love the books and the characters so much. I had to find out what happened next! I wanted to write the sequel because I'd not only have more to offer a prospective publisher (i.e. not working for ages on ONE manuscript), but I knew it would inform the first and I'd learn a lot.
So when I got my publishing deal, it was for three books and I'd had two of them written, just needed editing. Writing the third, The Pearl Dagger, which releases in 2019, was the biggest change because I wrote the whole book in that one year. It was fun, but I had to be more mindful of my writing habits and the deadline. The biggest tip I learned was to actually turn off the word and page count. When I was nearing the end, I started focusing on those annoying numbers instead of the content of my chapters. It was paralyzing. When I turned them off, I wrote a lot more and wasn't impeded by anxiety.
Writing a historical novel can require a lot of research. What is your process for creating a world set in New York City in 1936? 
I read a lot of books about the era, especially about Mayor La Guardia. I look at photos and a lot of books on Art Deco. The best find -ever!- was a book by Hulbert Footner, New York: City of Cities, published in 1937. It's a long, poetic, wildly descriptive tour book of the city. But not just to the tourist sites, but to the NYPD and the mayor's offices. What was incredibly helpful, was that it was set right in my time without any tainting from hindsight.
They were in the era, between the two world wars, living in the present. I use that book like it's the Bible. I also take a lot of notes with any tidbit I pick up, and I talk with a lot of people who remember La Guardia or have a relative who told them stories. I often interview them and get those juicy pieces of history that really make a time come alive or show a side to the era or La Guardia that people don't often get to see.
That's my favorite part: illuminating parts of the 1930s that challenge the general narrative that we usually hear about. The creativity, humor, and art of that time period can often be overshadowed by the Depression.
Tell us about Brass: Fight to Keep Creativity Alive:
When I finally started to take writing seriously (setting aside small increments of time that I did consistently), I had SO MUCH FUN! I was filled in ways I hadn't been in a long time. Every friend I came across would ask why I was looking so enthused, and I told them about writing. In response, every single person would say something wistful like, "Oh I remember when I used to fill in the blank." Garden, read for pleasure, do photography, crochet, paint with watercolors…
I began to think through why, when life gets complicated, do we relegate creativity to superfluous hobby status? When it seems to me so much more important than that… So I started writing articles about the psychology of creativity, the myths that we tend to believe, how life is always complicated so you still need to do the critical things…
And then it morphed into Brass and my workshops that I offer on the topic. The reason it's called Brass and why my logo has brass knuckles and switch blades on it, is that creativity doesn't just happen or come without effort. You have to fight for it! And it has so much more bite than just a hobby. It brings us life and helps us in every other area of our lives.
The Gold Pawn continues the story of Lane Sanders. What challenges did you find (and are you finding in three) to build a character arc in an existing character? Was it an advantage or disadvantage to work with the same protagonist?
This one, The Gold Pawn, was easier for creating the arc because I knew a long time ago that Lane had issues to face with the loss of her parents. I have friends who have lost parents, and I know how long that can take to embrace and there are so many levels to that grief. Plus, Lane has a lot of intrigue in her life. Lane is a positive, smart, funny person who is mainly level-headed. But in The Gold Pawn she wrestles with her fears and her indignity that her parents left a horrible void.
She wonders who exactly she can trust in the midst of a complicated mystery that has her questioning her own judgment. But most importantly, she wrestles with wondering if she can trust herself… In book three, coming out next year, The Pearl Dagger, Lane grows because it's Finn's turn to face his past. With these bigger themes that are driven by the mystery as well as a plotline I've had for a long time, it's been fun to watch them grow. But I'm a big learner myself. I love to figure out things, what makes a person tick, and the obstacles to overcome situations. So I guess I bring in a lot of my own observations as I personally grow, so that helps immensely in character arcs.
What are you working on now?
Book 4! Yet to be named… But I do know that this one will take the crew back to Detroit where they will see first-hand the repercussions for Detroit's big business during Prohibition earning its moniker: Whisky Town. And it will have a HUGE piece of explosive history and perhaps an age-old question will be answered as the book's timeline approaches May of 1937…
Fascinating! Looking forward to your next books – and having you back on my blog to share with readers.
---