Furious: Sailing Into Terror by an author who just may be the most interesting man in the world. Read on for our interview.
Author Interview + Author & Book Info + Author Pet Corner
---
Furious: Sailing Into Terror

"An extraordinary achievement by a writer destined for greatness." -Jon Land, USA Today bestselling author of the Caitlin Strong novels
"A gripping tale of a dream vacation that goes horribly wrong." -Mark Alpert, internationally bestselling author of Saint Joan of New York
Trapped on a storm-damaged yacht, a grieving woman must conquer her worst fears and fight for her life, in a story described as The Shining on a yacht.
Dr. Dagny Steele is on the verge of fulfilling her lifelong calling to become a pediatric surgeon when the sudden death of her daughter sends her into a crushing depression.
Grief stricken and desperate to heal, she takes a leave of absence and sails across the Indian Ocean with her husband.
Dagny begins to recover from her tragic loss when her voyage turns into a nightmare. Isolated and hunted at sea, can she survive a deadly crucible?
To purchase Furious: Sailing into Terror, click on any of the following links: Amazon, Barnes & Noble & Black Rose Writing
---
Furious: Sailing Into Terror — The Interview
Tell us about your road to publication with Furious: Sailing into Terror:
I've identified as a writer since I was six years old and would sneak out of bed after bedtime to scribble stories in my notebook, so my journey to publication has lasted for almost fifty years.
I signed with an agent for a nonfiction book but had to fire him. I searched for an agent for Furious and received a great deal of interest, but I did not find the right match.
I submitted Furious to publishers accepting unagented queries and had several offers within a few weeks. I sold the manuscript to Black Rose Writing, and now, I've added marketing and sales to my writing day.
What should readers know about Dr. Dagny Steele?
Dagny Steele is devastated by the sudden death of her daughter, and her husband drags her across the Indian Ocean on a yacht to help her recover.
Everyone deals with tragedy and obstacles, and how people rise to the occasion defines their character. My wife, Cynthia Farahat Higgins, inspired Dagny's character. Cynthia has battled cancer and multiple sclerosis, and she stood up to Egypt's totalitarian socialist regime and exposed the Muslim Brotherhood—a radical Islamist terrorist organization.
As a woman in Egypt, she faced almost insurmountable odds but refused to give up, and this month, her picture and column were attached to the banner of al-Dustour, the most influential newspaper in the Middle East. Cynthia's courage and determination were the clay I used to sculpt Dagny.
Your prior life as a DEA agent, undercover agent in Afghanistan, and deputy sheriff came with danger and a lot of action. How has your personal history informed your fiction?
Twenty-five years of chasing criminals has certainly informed my writing, but the relationship may work both ways.
I read thrillers and adventure stories as a child, which probably created my desire to do something adventurous and get into law enforcement. I'm fortunate that my career hunting terrorists and transnational criminals took me on wild adventuress around the world.
As a cop, I battled street-level criminals and made homicide arrests, and as an agent, I arrested the world's most prolific heroin trafficker, an Iranian operative, and several terrorists.
I've been shot at with handguns, rifles, rockets, and mortars. I've fought hand-to-hand with a Taliban operative and wrestled a suicide bomber. I think conducting high-level conspiracy investigations and being in life-and-death situations has helped me create plots and write believable action.
You have been prolific over the last four years after retiring as a supervisory special agent and writing full time. What's your writing process like? Does it vary between nonfiction and fiction? What's your secret for having so many projects finished and in the works?
Since retiring, I've written one nonfiction book, Blood and Powder, about the first narco-terrorism case, and six novels.
I've also published short stories, creative nonfiction, and essays, but my focus is writing thriller novels.
I have two coming out this year and four others in the editing to submission pipeline.
The key to productivity is developing a good writing practice. I write almost every day, which allows my subconscious to work out problems.
There's a lot of truth in the adage, "writers write." It's easy to come up with excuses, but even writing for half an hour every day will produce a book a year.
Tell us about Unseen: Evil Lurks Among Us:
Rookie Homicide Detective Malachi Wolf investigates a string of murders in Washington, DC, and uncovers both a vigilante killer and a terrorist conspiracy—making himself a target.
My wife started the first secular political party in Egypt, stood up for individual rights, and fought radical Islam in Cairo, which is the belly of the beast. She has more courage than anyone I know.
I spent most of my career investigating terrorism, but my wife's expertise in the Muslim Brotherhood inspired Unseen.
What are you working on now?
My literary agent has submitted my nonfiction book, Blood and Powder, to publishers. I recently submitted a small-town murder mystery, Shaking, to editors and agents.
I'm editing The Forever Game, a techno Thriller I wrote for NaNoWriMo in 2020. I'm adapting Furious: Sailing into Terror into a script. I'm currently writing a military/action-adventure thriller, Forsaken, for Amazon Vella, a new serial platform that will launch sometime this summer.
I always have too many projects going on and once, and one of my New Year's resolutions was to wrap up everything by the time NaNoWriMo starts in November.
My goal is to complete two books per year from now on.
Words of Wisdom for Aspiring Writers:
Write, write, then write some more. Malcolm Gladwell suggested it takes ten thousand hours to master a subject, and I believe that's true for writing, but it must be focused writing.
Always try to improve. Study books on craft, listen to authors, editors, and agents, and read as much as you can.
Author Pet Corner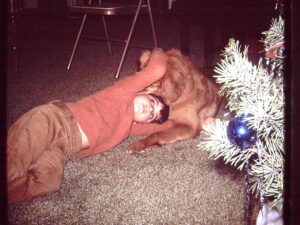 I love dogs.
Treasure was a golden retriever my parents gave me when I was five. She was my best friend and I miss her every day.
As an adult, I had two dogs, Sophie, an adorable buff cocker spaniel, and Spenser, a warm-hearted rottweiler.
Spenser weighed about 130 pounds and Sophie was under 30, so they turned heads when we walked together in Manhattan.
I miss them more than I can say.
My mother-in-law and her cocker spaniel, Slinky, live with my wife and I now.
Dogs are my favorite creatures on the planet.
---
Jeffrey James Higgins is a former reporter and retired supervisory special agent who writes thriller novels, short stories, creative nonfiction, and essays.
He has wrestled a suicide bomber, fought the Taliban in combat, and chased terrorists across five continents. He received both the Attorney General's Award for Exceptional Heroism and the DEA Award of Valor.
Jeffrey has been interviewed by CNN Newsroom, Investigation Discovery, CNN Declassified, New York Times, and Fox News.
He was a finalist for Adelaide's 2018 Best Essay Contest and a quarterfinalist in ScreenCraft's 2019 Most Cinematic Book Competition and 2021 Cinematic Short Story Writing Competition.
Black Rose Writing published his debut thriller, Furious: Sailing into Terror, on May 20, 2021.
---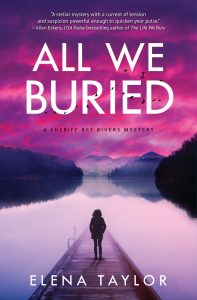 Elena Taylor is the author of All We Buried, available now in print, e-book, and audio book format at all your favorite on-line retailers. And don't forget many independent bookstores can order books for you and have them shipped to your home or for curbside pickup.
Amazon Kindle Monthly Deal, $1.99 May 1-31
For more information on All We Buried, click on the link here to visit the home page.
Foreword INDIE Award Finalist, Best Mystery 2020