Lori Duffy Foster launches the first of her Lisa Jamison series. Thrilled to introduce you to this prolific debut author!
Author Interview + Book & Author Info + Pet Corner!
---
A Dead Man's Eyes by Lori Duffy Foster
Lisa Jamison has done well for a single mom who got pregnant at fifteen.
She is a reporter at a well-respected newspaper and her teenage daughter is both an athlete and honors student. Though their relationship is rocky these days, Lisa has accomplished what she set out to do. She has given her daughter the kind of life she never had.
But all that changes when Lisa sees her daughter in the eyes of a dead man.
The cops call it a drug killing, but Lisa doesn't believe it. She knows her ex-boyfriend was no drug dealer even though she had not seen him in sixteen years. Lisa ignores warnings from her medical-examiner friend. She fails to heed barely veiled threats from the sheriff of a neighboring county. Instead, she risks her life and the lives of her daughter and their closest friend on a dangerous quest for answers.
The investigation leaves Lisa fighting for her family in a morbid, black market world she never knew existed. She learns that trust is complicated and that she, despite her cynical nature, has been blind. She trusted the wrong people and now she might have to pay with her life.
---
The Interview with Lori Duffy Foster
Tell us about your road to publication with A Dead Man's Eyes:
It has been a long one, but worth every day, month and year.
I started writing my first novel about twenty years ago when I left journalism to stay home with my youngest. I figured that was good time to make the switch.
After nine years of writing and revising, I landed my first agent. I was warned against signing with him, but I was too excited to listen. I learned my lesson and we parted ways two years later.
I signed with my second agent just after I completed A Dead Man's Eyes. She loved it and convinced me it should be the start of a series. We got lots of great feedback from publishers, and she taught me a ton, but we parted ways amicably after four years with no sale. By then, I needed a break from the business of writing. I had four young kids and I worked part time. I was feeling overwhelmed and discouraged, but I kept writing, completing five novels in all.
On a whim, I submitted a manuscript to a small press and was offered a contract for three books. Again, there were red flags, but excitement ruled. I signed anyway. Thankfully, I was able to break the contract before the first book was published. By then, I knew what I needed most: a publisher I could trust.
I immediately thought of Level Best Books. I knew two of the owners, one personally and one virtually, and I had watched them grow the business responsibly. The feedback from their authors was all positive. I dove in headfirst and surfaced with two three-book contracts.
It is a whole different world. I have no regrets because my journey, with all its disappointments, led me here.
What should we know about Lisa Jamison?
Lisa Jamison got a rough start in life. Pregnant at fifteen, she ran away from her drug-addicted parents and landed in foster care after witnessing a friend's tragic death. But she has always been tough and determined.
She kept her daughter, put herself through college and is a successful journalist with a fierce soul and compassionate heart. But Lisa's daughter is a teenager now and their relationship has gone from blissful to rocky. It's mostly Lisa's fault and she knows it. She can't suppress the fear that her daughter will make the same mistakes she made.
Then Bridget's father is murdered just a month after Lisa denied him the chance to meet the daughter he never knew. Lisa is determined to find out why and clear his name for her daughter's sake and her own.
Lisa is a compilation of several people I knew during my journalism days, including a pregnant teenager who witnessed a fatal game of Russian roulette. There was something special about that girl. She was smart and determined beyond her years, just like Lisa.
As a longtime reporter, what was it like creating a fictional reporter? Did you stay true to your own experiences? Or find yourself stretching the "truth" for the sake of good storytelling?
I think I stayed pretty much true to my own experience. The only exception would be that I glossed over the mundane.
Journalism is not always exciting.
There are daily deadlines to meet, gaps to fill and meetings to attend. Journalists spend a lot more time in the newsroom, making phone calls, researching and writing, than Lisa does in the novel. But that stuff is boring, for readers anyway.
I did take a lot of chances when it was unwise to do so, like Lisa, but nobody ever tried to kill me.
You also write nonfiction, is your process the same for both novels and nonfiction? What's your typical process?
The pre-writing process is very different. For nonfiction, I decide on a topic, and then start researching.
As I research, the focus of the article might shift. It's a learning process. I have to quickly digest a lot of information, make sense of it, and then settle on an approach that will help others understand it in a way that reels them in and pulls them through the whole story.
Fiction, for me, begins with "what if." What if a reporter is suddenly confronted with the corpse of someone important from her past? What if your best friend is obsessed with your husband, and then you have a baby, shattering her dreams of stealing him from you? What if you learn the man who raped you as a child did not die in an accident, that your father's best friends killed him?
So that part is different, but the act of writing is the same.
When I am immersed in writing, I lose all track of time. I feel like I am sculpting with words and I can't stop. It's a high and it's addicting. I have to set an alarm, so I don't forget to pick my kids up from school.
You are also working on three standalones and other books for this series. What's it like having so many different projects up in the air?
I am fortunate in that five of the six novels are complete. They still need work. One needs a sensitivity reader, another needs better pacing in the first 120 pages. Another needs updating because I wrote it six years ago. The juggling act comes in trying to finish the sixth novel while revising the others and promoting the books (and working and raising kids and a bunch of other stuff).
All six novels will release within four years. That's not a lot of time.
With all those projects on the table, what are you working on now?
I am about halfway through No Time to Breathe, book three in the Lisa Jamison series.
I already have an idea for book four, but I want to write another standalone first. Then I will write book four in the series.
This discipline thing is tough. I really want to write all of them at once.
 Words of Wisdom for Aspiring Writers:
Embrace the ignorance.
A lot of writers will tell you war stories about publication. Those stories can be helpful when you have faced rejection yourself and you need inspiration to go on, but don't let them take you down.
It's okay to believe your first novel will land you the world's best agent and a spot on the New York Times best seller list. It's okay to push that book to the side while you focus on the second book, believing this one will entice your dream agent and get you on the best seller's list. And it's okay to do that with the third.
Believe!
You need that naivety and the confidence that comes with it to succeed. Sometimes it happens exactly the way you dreamed. Sometimes, it's like writing a novel: You start off with one ending in mind, but the process takes you to an entirely different and far more satisfying place.
Lori Duffy Foster—Author Pet Corner!
We have almost as many pets as kids!
The oldest is Marco, a big, burly lab/border collie mix. He is eight years old and came to us as a toddler from a rescue in Salamanca, N.Y. He loves everybody and is submissive to all other creatures, expect deer. He will crash though the invisible fence for deer, howling in pain until he is well past its reach. That's why we no longer have an invisible fence.  He is a big-time cuddler and is super soft with his border collie fur.
Our six-year-old cat, Ash, is a sneaky little thing. She came to us as a feral kitten who had been following my mother-in-law's cat into her house day after day. Ash was about six months old when we took her in. She shuns the outdoors now, but she hasn't lost her street smarts. She owns the lower levels of the house, where dogs are not allowed, and sleeps on our beds, where dogs are also not allowed (often). Marco has come to accept her moodiness. Some days, she snuggles up to him, purring. Other days, she snuggles up to him, and then hisses. Still, he whines for her attention whenever she is in sight.
Lola and Ash are still working to define their relationship. Lola is our pandemic dog, adopted this fall as a promise to our twins who were bummed about virtual schooling. She and her mom had been homeless for a long time before they were taken in by a shelter in Coudersport, PA. At 18 months old, the shelter felt it was time for some separation. She is still learning a few things about human families, like how to cuddle. She prefers to stand with her face in ours and tear at our arms with her paws when she wants to be petted. We do not know her breed, though some suspect she is part coon dog.  She runs like a deer—light, agile and super fast.
She leaps over Marco when she gets excited and splats into the door window when she thinks someone is the driveway. We adore her.
Thank you Lori Duffy Foster! Great to have you visit with us today!
---
Lori Duffy Foster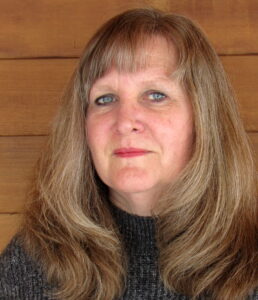 Lori Duffy Foster is a former crime reporter who writes from the hills of Northern Pennsylvania, where she lives with her husband and four children.
She was born and raised in the Adirondack Mountains of New York State, where a part of her heart remains.
Her short fiction has appeared in the journal Aethlon, and in the anthologies Short Story America and Childhood Regained.
Her nonfiction has appeared in Healthy Living, Running Times, Literary Mama, Crimespree and Mountain Home magazines.
A Dead Man's Eyes, the first in the Lisa Jamison mystery/suspense series, is her debut novel. Look for book two in the series, Never Broken, in April of 2022. She is also author of Raising Identical Twins: The Unique Challenges and Joys of the Early Years.
Lori is a member of Mystery Writers of America, Sisters in Crime, The Historical Novel Society, International Thriller Writers and Pennwriters She also sits on the board of the Knoxville (PA) Public Library.
To learn more about Lori, click on her name, photo, or any of the following links: Facebook, Instagram, Twitter & Goodreads
---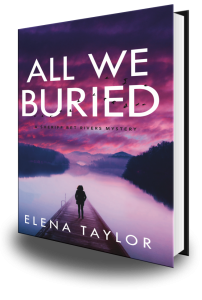 Elena Taylor is the author of All We Buried, available now in print, e-book, and audio book format at all your favorite on-line retailers. And don't forget many independent bookstores can order books for you and have them shipped to your home or for curbside pickup.
For more information on All We Buried, click on the link here to visit the home page.
Foreword INDIE Award Finalist, Best Mystery 2020