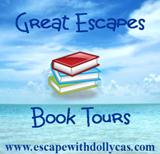 A Tourist's Guide to Murder, the latest cozy mystery by V.M. Burns
Author Interview + Book & Author Information + Rafflecopter Giveaway
Visit all the stops along the tour for A Tourist's Guide to Murder!
---
A Tourist's Guide to Murder
While visiting the land of Miss Marple and Sherlock Holmes, bookstore owner and amateur sleuth Samantha Washington finds herself on a tragical mystery tour . . .
Sam joins Nana Jo and her Shady Acres Retirement Village friends Irma, Dorothy, and Ruby Mae on a weeklong trip to London, England, to experience the Peabody Mystery Lovers Tour. The chance to see the sights and walk the streets that inspired Agatha Christie and Arthur Conan Doyle is a dream come true for Sam—and a perfect way to celebrate her new publishing contract as a mystery author.
But between visits to Jack the Ripper's Whitechapel district and 221B Baker Street, Major Horace Peabody is found dead, supposedly of natural causes. Despite his employer's unfortunate demise, the tour guide insists on keeping calm and carrying on—until another tourist on their trip also dies under mysterious circumstances.
Now it's up to Sam and the Shady Acres ladies to mix and mingle among their fellow mystery lovers, find a motive, and turn up a murderer . . .
A Tourist's Guide to Murder (Mystery Bookshop)

Cozy Mystery
6th in Series
Publisher: Kensington (January 26, 2021)
Paperback: 256 pages
ISBN-10: 1496728955
ISBN-13: 978-1496728951]
Digital ASIN: B087YRY1S4
---
A Tourist's Guide to Murder—Author Interview
A Tourist's Guide to Murder is book six in your Mystery Bookshop Series. Tell us about the new book. Can it be read as a standalone? Or should readers start with book one?
In A Tourist's Guide to Murder, mystery bookshop owner and aspiring mystery author, Samantha Washington heads to England for rest and relaxation and to research her next British historic cozy mystery. She is joined by her grandmother, Nana Jo, and their friends from the retirement village.
While exploring the locations of real and fictional murder mysteries, she finds herself drawn into solving one suspicious death and one murder. She determines the killer has to be a member of the tour group and sets out to find the killer. Even though this is the 6th book in the series, readers will be able to enjoy the mysteries as a standalone.
What drew you to setting this book in London?
Samantha Washington has dreamed of writing British historic cozy mysteries. She has completed several books and has an agent who is enthusiastic about the possibility that she will get published.
So, Sam decides this is a good time to take a trip abroad to research her next book and hopefully, gain inspiration as she takes a Mystery Lovers' Tour.
The other books in your series are set in North Harbor, Michigan. Tell us about that town and the mystery bookshop run by your amateur sleuth Samantha Washington.
North Harbor, Michigan is a fictional town in Southwestern Michigan on the shores of Lake Michigan. People familiar with Southwestern Michigan may recognize that it bears a striking resemblance to the town of Benton Harbor, Michigan.
Benton Harbor was once a beautiful, thriving area with a colorful past. Over time, the town has gone through a decline, but residents are determined to revitalize the town. The downtown is a haven for artists and Market Street Mysteries is in an old building which used to be referred to as 'the Gargoyle building.' The bottom is a storefront, the upstairs was a loft which Sam has converted into a two-bedroom, two-bathroom apartment. It has hardwood floors and 17' tall ceilings with exposed brick and ducts.
The building was one that Sam and her late husband, Leon, always dreamed would house their bookstore and they would rent the upstairs to help with the mortgage. However, after Leon died, Sam sold their house and moved upstairs to help her move forward.
The bookstore has real wood bookshelves which were made by an Amish Carpenter and a small area in the back of the store has been setup for a café where Sam's assistant, Dawson Alexander, supplies baked goods. It's a warm, cozy spot.
Samantha Washington is also a writer. How does that part of her character appear in the series?
In addition to dreaming of owning her own mystery bookshop, Samantha Washington also dreamed of writing British historic cozy mysteries.
Each book in the series includes the contemporary murder mystery that Sam must solve in her personal life, along with the murder mystery that she is writing.
Over time, she's discovered that writing allows her subconscious mind to sort through clues and helps her figure out whodunit.
You write multiple series. How do they differ in style and tone? What's your process like? Do you work on more than one book at a time?
Each series has its own personality which makes it very easy for me to keep them separate.
The RJ Franklin Mystery Series is a police procedural steeped in African American culture including the spiritual, food, music, and traditions.
All of the titles in this series are taken from Negro Spirituals and it includes soul food recipes. This series is set in the fictional town of St. Joseph, Indiana which is based on my hometown of South Bend, Indiana.
The protagonist is a police detective who (with the help of his godmother, Mama B) solves murders.
The Mystery Bookshop Mystery Series is set in Southwestern Michigan. Samantha Washington is a widow who dreamed of owning a mystery bookshop and writing British historic cozies. She is an amateur sleuth who solves mysteries with the help of her grandmother, Nana Jo, and their friends from Shady Acres Retirement Village.
A Dog Club Mystery Series is also a cozy mystery series which features a female protagonist, Lilly Ann Echosby. This series starts in Indiana, but soon moves to Chattanooga, Tennessee. Lilly, her best friend and dog trainer, Dixie, and their poodles play a major role in solving mysteries. Each book in this series features a different breed of dog and a lot of southern charm.
I only work on one book at a time. I try to space the books out, so that I can focus on one book for 3-4 months. Generally, after spending months immersed with the characters in one of the series, I'm ready to move on to a different series with different characters by the time I get to the end of the book.
Having multiple series keeps me from getting bored.
Cash, Kensington, and Chloe are your poodles. Do they help or hinder your writing process?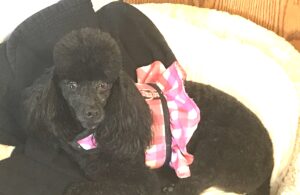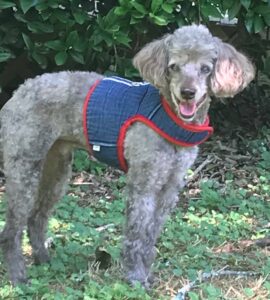 I love dogs and most of my books include dogs. Many of their antics end up in my books in one form or another, so from one respect, they have inspired me. However, when it comes to the process of actually writing, they are often more of a distraction than a help.
I have three dog beds in my office and the poodles (mostly) curl up and sleep while I'm writing. Although, now one of the beds is empty. Sadly, Cash crossed the rainbow bridge, so I just have the two girls now.
I had Cash for eighteen years (since he was just two months old), so it's been a hard adjustment even though he had a long, happy life. He is definitely missed.
Kensington (Kenzie) is a five-year-old black toy poodle who loves to cuddle. If she had her way, she would climb on my shoulder and sit perched there like a bird, all day. However, it's a bit hard to write while balancing an eight-pound poodle on your shoulder, so we reserve those cuddles for breaks and before bedtime.
Chloe is the newest addition to the pack. She just turned one on January 11th. She is technically considered a red toy poodle, although her color is more of a light blonde/apricot. I got her in Mid-March at the start of the pandemic in the U.S. Sheltering at home with a puppy has been a challenge. She has a lot of energy and loves to race through the house at top speed.
To curb her energy (and save my sanity) I've discovered doggy daycare. I take her a couple of days per week so she can play and burn off energy.
What are you working on now?
The fifth and final book in the Dog Club Mystery Series published in December 2020.
I've completed the seventh book in the Mystery Bookshop series, Killer Words. It's scheduled to release in December 2021. So, right now I'm working on a proposal for another mystery series. Fingers crossed!
Final Words of Wisdom for Aspiring Writers:
Many people dream of being a published writer. It's not enough to dream about one day when the planets are perfectly aligned, and you hit the lottery, quitting your day job and becoming a writer. Some Day never comes.
The planets will never be perfectly aligned. And, the odds of hitting the lottery are…well, you get the picture.
If you want to be a writer, then write. Steal time wherever you can and get the words onto the page.
Don't worry about making the words perfect. You can always edit/revise them later. The important thing is getting the words out of your head and onto the page.
The path to publication can be long and arduous, but you can do it. Don't give up, and just keep writing.
Such great advice! Thank you for visiting and sharing your doggos with us. Best of luck with all your ventures!
---
V.M. Burns
V.M. (Valerie) Burns was born and raised in the Midwestern United States. She currently resides in the warmer region of the country in East Tennessee with her two poodles.
Valerie is a member of Mystery Writers of America, Dog Writers of America, Crime Writers of Color, International Thriller Writers, and Sisters in Crime.
Valerie is the author of the RJ Franklin Mysteries, the Dog Club Mysteries, and the Agatha Award-nominated Mystery Bookshop Mystery series.
To learn more about V.M. Burns, click on her name, photo or any of the following links: BookBub, Facebook, Goodreads, Instagram, and Twitter
---
Visit all the stops along A Tourist's Guide to Murder Book Tour!
January 21 – I'm All About Books – SPOTLIGHT
January 21 – Escape With Dollycas Into A Good Book – REVIEW
January 21 – #BRVL Book Review Virginia Lee Blog – SPOTLIGHT
January 22 – Carla Loves To Read – REVIEW, GUEST POST
January 22 – Maureen's Musings – SPOTLIGHT
January 22 – Reading Is My SuperPower – REVIEW
January 23 – Paranormal and Romantic Suspense Reviews – SPOTLIGHT
January 23 – Literary Gold – CHARACTER GUEST POST
January 24 – I Read What You Write – REVIEW
January 24 – The Book Diva's Reads – SPOTLIGHT
January 25 – Christy's Cozy Corners – REVIEW, GUEST POST
January 25 – FUONLYKNEW – SPOTLIGHT
January 25 – My Reading Journeys – REVIEW
January 26 – Reading, Writing & Stitch-Metic – SPOTLIGHT
January 26 – Diane Reviews Books – REVIEW
January 27 – Celticlady's Reviews – SPOTLIGHT
January 27 – Books a Plenty Book Reviews – REVIEW, CHARACTER GUEST POST
January 27 – Island Confidential – AUTHOR INTERVIEW
January 28 – Here's How It Happened – REVIEW
January 28 – Brooke Blogs – SPOTLIGHT
January 29 – Book Club Librarian – REVIEW  
January 29 – View from the Birdhouse – SPOTLIGHT 
January 29 – Books to the Ceiling – CHARACTER INTERVIEW
January 30 – Author Elena Taylor's Blog – AUTHOR INTERVIEW
January 30 – Sapphyria's Book Reviews – SPOTLIGHT
January 31 – Ruff Drafts – AUTHOR INTERVIEW
January 31 – Baroness' Book Trove – SPOTLIGHT
January 31 – My Journey Back – CHARACTER INTERVIEW
---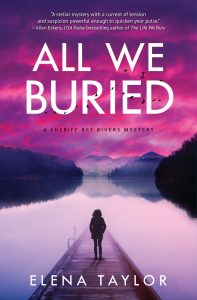 Elena Taylor is the author of All We Buried, available now in print, e-book, and audio book format at all your favorite on-line retailers. And don't forget many independent bookstores can order books for you and have them shipped to your home or for curbside pickup.
Amazon Kindle Ebook Deal $1.99 Through January 31
For more information on All We Buried, click on the link here to visit the home page.