Zoom has changed a lot of things for us as we navigate the lockdown. Many of us use Zoom and other platforms to do public events, meet with friends and family, and workout with fitness instructors.
Technology has made lockdown easier. It helps many of us work virtually and stay connected to our community.
But it has its challenges.
Every Wednesday at 9am PT, I lead writing workshops online for free through Allegory Editing.
Every Wednesday at 9am PT, I lead writing workshops online for free through Allegory Editing. Currently, I have a core group of about fifty people who log in every week, but over three hundred people have attended at least one class.
It's a pleasure for me. It's the largest "social" event on my calendar, which is unlikely to change in the near future. I started doing them on May 13, 2020, and I anticipate  doing them until I've not only gotten the vaccine, but have major changes in my schedule, such as returning to live events.
For the most part, the technology has worked incredibly well. There were some glitches, but things mostly run very smooth.
Then came 70 mph winds and a loss of electricity and internet.
On Wednesday morning, January 13, I woke up expecting to teach a workshop on Emotional, Psychological, and Physical Landscapes. But both my power and internet were out.
I went into my office, expecting to use my cell phone hotspot. We live in the woods, so we have a generator that kicks in when the power goes out. It provided power to my computer.
But my cell signal wasn't connecting, so a hotspot wasn't an option.
Now what? I had sixty-eight people registered, I couldn't just . . . not show. There was no virtual door to hang a "technical difficulties" sign on.
I put a backup plan in place. Andrea Karin Nelson, Founder and Principal Editor of Allegory Editing, could also log in to our Zoom account. She could login and let people know my situation and that I would reach out about rescheduling the workshop.
But I didn't want to miss out on the chance to have my hour with my crew. I felt determined to make a workshop happen, or at least be able to tell people in person. It felt like a mission. The one and only time during the week that anyone expected to see me.
"I'll sit outside the Starbucks and hop on their WIFI" I thought to myself.
I drove to town.
Forgetting, of course, that my entire community was without power or WIFI. But I did find a stronger cell phone signal and lo and behold, I could Zoom on my phone.
Sitting in my Mazda.
It was to be my Zoom-Zoom Zoom.
I anticipated the majority of the participants would bail out and meet up for the next event. Without access to my computer, my notes, and the documents I planned to share, I couldn't teach my scheduled class. So instead, I did an impromptu Q & A.
Everyone stayed.
An hour later I was saying goodbye to more than sixty people, who had stuck it out with me as I Zoom-Zoomed from my car.
Did I mention I had my four-month-old puppy with me? He was "mostly" quiet during the event, but every once in awhile he made his presence known.
I found the entire event hilarious. There were downed tree branches all around me as I sat in the empty Starbucks parking lot. People would occasionally drive by and give me an odd look as I spoke animatedly into my cell phone.
But we did it.
Thanks to technology, I got to connect with my people for an hour. For an hour out of this crazy, scary, dark time, I didn't think about COVID or politics or violent uprisings in our Capitol. I could just focus on writing and writers, two of my very favorite things.
So while I can't wait for the pandemic to end and for order to be restored, while I'm looking forward to public events and seeing people in person, my weekly Zoomies are something truly special. They allow me to connect with people around the world.
I've said from the beginning, we are all in this together. It's just that on January 13, we were all together in my car.
Want to join us for our Wednesday We Write Through Workshops? Click the link here
---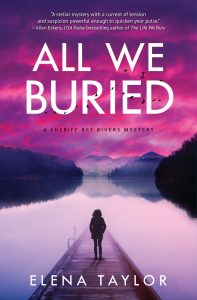 Elena Taylor is the author of All We Buried, available now in print, e-book, and audio book format at all your favorite on-line retailers. And don't forget many independent bookstores can order books for you and have them shipped to your home or for curbside pickup.
Amazon Kindle Book Deal! $1.99 January 1-31.
For more information on All We Buried, click on the link here to visit the home page.
Header photo by Viarami on Pixabay.