Amid Rage, the second in Joel Burcat's thriller series about environmental prosecutor Mike Jacobs, launches February 2nd.
Author Interview + Author & Book Info for Amid Rage
---
The Interview: Amid Rage
Tell us about Amid Rage: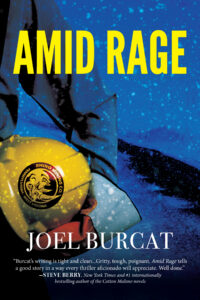 A psychotic coal mine operator and cynical neighbors with an anti-mining agenda fight out a strip mine permit battle.
Mike Jacobs, a 28-year old environmental prosecutor with Pennsylvania's environmental agency, DEP, is caught between the warring factions, but is ordered to "babysit" the case. All Mike wants to do is to protect the environment and neighbors from certain harm as a result of the proposed mining.
Sid Feldman, the Philadelphia lawyer for the mine operator, who oozes power and privilege, offers Mike a job midway through the proceedings.
Miranda Clymer, the lawyer for the neighbors, pulls out all the stops to win Mike's affection and assistance.
Mike's nearest and dearest friend, Nicky Kane is by his side as his paralegal. Mike must use all of his talents as a lawyer and rely on his discretion and courage to do what is right and not anger the political bosses for whom he works. In the cataclysmic ending, someone will die, but who?
What drew you to writing environmental legal thrillers?
I enjoy reading thrillers and I enjoy legal thrillers. Some of my favorite books include John Grisham's environmental legal thrillers, The Pelican Brief, The Appeal and Gray's Mountain.  I also enjoy books that are environmental thrillers, but not legal thrillers like The Monkey Wrench Gang, Zoo, and Relic,  and other environmental thrillers.
As an environmental lawyer, I've picked up a lot of knowledge regarding environmental issues. It was quite natural for me to write environmental legal thrillers. This gives me an opportunity to write about something I love and to educate my readers through fiction.
Can this be read as a stand-alone? or should readers start with Drink to Every Beast?
I intentionally wrote Amid Rage as a stand-alone, so you can read it without having read my previous book.
I do backfill a bit so that readers can get caught up with the characters, but I was careful not to spend too much time on backstory in Amid Rage. I've learned that the term for Amid Rage is that it is part of a series, not a sequel.
What should we know about Harrisburg, Pennsylvania?
Harrisburg is the state Capital. There is a lot of politics that goes on here and you run into politicians all the time. I've seen sitting Governors in restaurants and stood next to one at a greeting card store buying a Valentine's Day card.
Once, early one morning I was waiting for a bus when Tom Ridge, then the Governor, jogged by me with another man, I assume his security guy. (As he jogged by, I said, "Hi Governor." He said "Hi" back.) We are respectful of their privacy and most people do not bother them when they are out and about doing personal things.
Also, as this is the Capital city, all of the Commonwealth's agencies are headquartered here. Many people have worked for a state agency at one time, so most everyone has been involved in government or has a family member who has done so.
There is a certain level of insider knowledge that is prevalent here. Even so, the politics is not at the same level or as much a big business as it is in Washington, DC, but it is all around us all the time. It's like old wallpaper, we are used to it.
Harrisburg also happens to be a beautiful city with the Susquehanna River running through it (literally 200 feet from my house) and the Appalachian Mountains just north and west of us (a couple of miles). As far as cities go, it is a small city and very livable.
How did studying and training and working as a lawyer prepare you for being a novelist?
I took several writing courses in college, but got interested in environmental issues in my sophomore year at Penn State. I was fortunate to decide very early on about my career, so I majored in physical geography specifically as part of my training to become an environmental lawyer, then went to a law school that had an environmental law specialty (Vermont Law School).
That background, and years as a practicing environmental lawyer, prepared me to write environmental legal thrillers.
One thing I had to do was to learn not to write as a lawyer. Legal writing is very different from writing fiction (there is a joke in that, I know it).
What are you working on now?
I have the third book in the Mike Jacobs series done and edited. That book, STRANGE FIRE, is about fracking. I have recently finished another book, my first YA thriller novel, called HUSH LITTLE BABY, that I am currently shopping around.
It is a gritty post-pandemic thriller (and not an environmental book). I've started writing three more books. One is the fourth in the Mike Jacobs series (called THE FIREBRAND). Another is an environmental legal thriller that is not part of the Mike Jacobs series. The third is a crime thriller set in Philadelphia in 1973.
I'm going to have to decide which to pursue soon and will come back to the others when the next book is done.
---
"To be a good writer two things must be at the top of your To Do list: READ."
---
Final Words of Wisdom for Aspiring Writers:
To be a good writer two things must be at the top of your To Do list: READ.
You hear that advice all the time, but it is one of the best pieces of advice I can give. I read in a four-book cycle.
(1) A book by a debut author or new author so I can support them and also see what new authors are doing with our craft (often I read an ITW debut writer's book).
(2) A book by a tried-and-true thriller writer. There are so many good books to read and I cannot possibly read all of them, so I try my best to read the books I hear other writers talking about.
(3) Non-fiction. I spend a fair amount of time reading about climate change, but also other non-fiction.
(4) Whatever the hell I want to read. Then I start over.
WRITE. This is also advice given by every writer, and it is true. You cannot be a writer unless you write. I've met quite a few aspiring writers who have confessed they are ashamed of their first drafts, so they hesitate to put their words onto paper.
The great writer and teacher Anne Lamott in Bird by Bird (a terrific writing book) said: "Almost all good writing begins with terrible first efforts. You need to start somewhere. Start by getting something—anything—down on paper."
She goes on to say: "Perfectionism will keep you cramped and insane your whole life, and it is the main obstacle between you and a shitty first draft."
Just write, people.
Thanks for giving me this opportunity.
My pleasure, great to have you visit and congratulations on your second novel!
To purchase the book, click on any of the following links:
---
Joel Burcat: Author of Amid Rage
Joel Burcat is a novelist and environmental lawyer. His debut novel, Drink to Every Beast, was first in his series of Mike Jacobs environmental legal thrillers. He has received the following awards: Second Place, PennWriters (Novel Beginnings, 2020); Quarterfinalist, ScreenCraft 2019 Cinematic Book Competition; Honorable Mentions at the New York Book Festival (Best General Fiction) and Readers' Favorite International Book Award (Best Fiction-Legal Thriller). In addition, he has several published short stories.
Burcat was selected as the 2019 Lawyer of the Year in Environmental Litigation (for Central PA) by Best Lawyers in America. He has also received "Super Lawyers" and "Best Lawyers" designations for environmental and energy law and was selected by the Pa. Bar Association as a recipient of its annual award in environmental law. Burcat lives in Harrisburg, Pa. with his wife, Gail. They have two grown daughters, a son-in-law, and granddaughter.
For more information about Joel, click on his name, photo, or any of the following links: Twitter, Facebook, and Instagram
---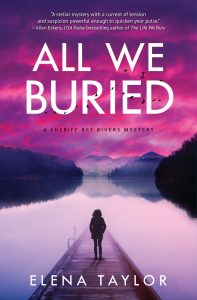 Elena Taylor is the author of All We Buried, available now in print, e-book, and audio book format at all your favorite on-line retailers. And don't forget many independent bookstores can order books for you and have them shipped to your home or for curbside pickup.
For more information on All We Buried, click on the link here to visit the home page.
Harrisburg photo by DEZALB on Pixabay