A Librarian makes for a great reader and a fabulous writer
Thrilled to introduce another debut author in the crime fiction genre. Elementary school librarian Shanessa Gluhm launches her first novel with a twisty, turny historical novel set in Carthage, Texas, during two different eras.
Curious about other librarians-turned-authors? Check out my interview with research librarian Edwin Hill by clicking the link here.
---
The Author/Librarian
Shanessa Gluhm works as a librarian at an elementary school in New Mexico where she lives with her husband and children.
It was during her own elementary days when a teacher encouraged Shanessa to write and share stories with the class.
She hasn't stopped writing since. Enemies of Doves is her debut novel.
To learn more about Shanessa, click on her name, photo, or any of the following links: Facebook, Instagram, Twitter, Goodreads, and BookBub
---
The Book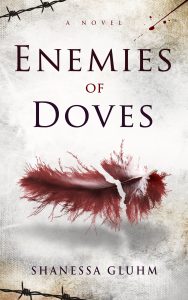 On a summer night in 1932, twelve-year-old Joel Fitchett wanders into an East Texas diner badly beaten and carrying his unconscious brother, Clancy. Though both boys claim they have no memory of what happened, the horrific details are etched into their minds as deep as the scar left across Joel's face.
Thirteen years later, both men still struggle with the aftershocks of that long-ago night and the pact they made to hide the truth. When they find themselves at the center of a murder investigation, they make a decision that will change everything. A second lie, a second pact and for a time, a second chance.
In 1991 college student, Garrison Stark, travels to Texas chasing a rumor that Clancy Fitchett is his biological grandfather. Clancy has been missing since 1946 and Garrison hopes to find him and in doing so, find a family. What he doesn't expect to discover is a tangle of secrets spanning sixty years involving Clancy, Joel and the woman they both loved, Lorraine.
Told in alternating timelines from World War II to 1992, Enemies of Doves is a tale of family secrets, jealousy and deception perfect for fans of Kate Morton and Katherine Webb.
---
The Interview
Your debut novel, Enemies of Doves, takes place in multiple eras. What drew you to writing a novel that skips back and forth in time?
Many of my favorite books are told in alternating timelines.
Kate Morton, one of my favorite authors, uses this storytelling method in all of her books. I like the idea of a story having roots in the past and present.
It can be challenging as a writer because you have to make sure both are equally engaging, so the reader isn't trying to rush through one to get back to the other. However, when done well it can deepen character development. Since those are some of my favorite books to read, I decided to attempt one as well.
---
One of my favorite book critics/authors is Librarian Nancy Pearl. She appears on NPR and is one of my favorite speakers on all things literary. You can find out more about Nancy by clicking the link here.
---
How much research did you do for this project? What was that like?
I decided to set the story in the 1940s and 1990s. I chose the WW2 era because my late grandfather fought in that war, and I always enjoyed hearing his stories.
Although the book is set during this time, I wouldn't necessarily classify it as WW2 fiction because with some minor tweaks it could take place in another era. I originally had more WW2 history, a few battle scenes and a scene where a character is in a POW camp, but they didn't make it through edits.
So most of what I had to research was what life on the homefront was like, what the world my characters were living in looked like.
As for the 1990s, I suppose that decade is now a part of history as well and can hardly be called a "modern timeline." However, I didn't have to do much research for that since I was a girl of the nineties.
You set Enemies of Doves in east Texas. What is it about that area that interested you? How did that landscape inform your work?
Enemies of Doves is set in East Texas because I spent my childhood summers there visiting my grandparents.
I think places tied to childhood memories have a special sort of nostalgia for us. It's been many years since my grandparents lived there, but I've found myself wanting to go back for a long time.I'd love to see their old home, walk those streets that my feet haven't touched since childhood.
My grandfather is gone now, and my grandma's health and memory are declining, so I often turn to those memories.Writing a story set in Carthage was a way to revisit.
I joined an East Texas writer's group and spent a lot of time looking at old pictures and doing some tours via Google Earth. I love the area and the people and I hope that comes across on the pages.
---
"There are so many wonderful children's books that I love."
---
In addition to being a novelist, you are an elementary school librarian. What are some of your favorite children's books? Either that you loved as a kid or recent publications you like to recommend now?
There are so many wonderful children's books that I love. A few of my favorites are Little Tree (Loren Long), The Banshee (Eve Bunting, Emily Arnold McCully), Pumpkin Jack (Will Hubbell), Love (Matt de la Peña, Loren Long), and Guess Again (Mac Barnett, Adam Rex).
For chapter book readers, I love The Miraculous Journey of Edward Tulane (Kate DiCamillo), Tuck Everlasting (Natalie Babbitt), The One and Only Ivan (Kathrine Applegate), and Crenshaw (Katherine Applegate).
---
Great suggestions for Children's book titles. Thank you, Shanessa!
---
Tell us about your writing process.
I'm what is referred to as a "plotter" in the writing world, so I always start with an outline.
I believe the outline for Enemies of Doves was about 40 pages. During this process I also make a character notebook where I list all that I can about each character.
Most of it will never make the book, but it helps me have a clear picture of them in my mind. I focus heavily on their strengths, weaknesses, and emotional wounds, so I can predict how they will react in various situations.
Next is the first draft where I just get the story out as quickly as possible. It's at that point where the hardest work for me begins, editing. I've found that most of the writing process is in fact editing.
What are you working on now?
I'm working on my second novel, Crow's Nest Creek. It's about a young woman named Sloan who is trying to solve the mystery of her brother who disappeared (and was believed to be murdered) years before.
It is similar to Enemies of Doves in that it is set in two timelines, this time around I chose 1988 and 2007. Character notebooks and the outline are done, and I'm plugging away at draft one.
Final words of wisdom:
Work hard and don't give up. It's a bumpy ride to a wonderful destination.  I'm going to borrow words from Stephen King who said, "Talent is cheaper than table salt. What separates the talented individual from the successful one is a lot of hard work."
I couldn't agree more.
---
Your novel sounds amazing! Can't wait to read it. Best of luck with your second novel as well. Come back and visit with us again soon!