Mystery Writers Conference Killer Nashville
Last weekend I attended Killer Nashville, one of my favorite writers conferences of the year. As you can guess from the title, the conference focuses on crime fiction. Located in Cool Springs, Tennessee, it's also a great excuse to drive out to Leiper's Fork and catch live music at Puckett's.
---
The Conference
The sold out conference included some amazing speakers, including Jeffery Deaver, author of the Lincoln Rhyme series, and historical novelist Anne Perry.
It's the perfect size conference. You can find everyone in the bar! (Photo: Carrie Smith, Sheila Sobel, Jeffery Deaver, Elena Hartwell, J.D. Allen).
Panels run the gamut from investigative techniques to how to use social media to why writers write what they write.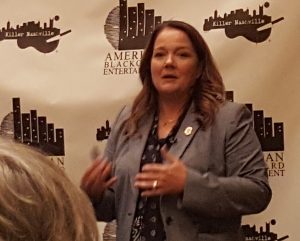 One of my favorite panels was An Inside Look at a Forensic Lab taught by TBI Agent Jenifer Hall.
She had invaluable information about the way crime scene investigation actually happens in the real world (and the unreasonable expectations TV shows like CSI creates for juries).
I was on three great panels: The Differences between Urban & Rural Readers, Writing Women's Fiction, and Writing Humor. So much fun to chat with readers and other writers alongside wonderful fellow panelists. Writers may be an introverted lot, but get us talking about writing and we never run out of things to say.
---
Thursday
The highlight of Thursday is the 'Shine 'N Wine Shindig put on by Bryan Robinson, author of multiple novels and nonfiction books, including the upcoming #Chill. The moonshine and wine mixer is a great way to reconnect with old friends and make new ones.
---
Friday
Friday included panels, a networking lunch, a shout out to debut authors, and the opening of the Crime Scene, set up by a member of TBI and "investigated" by conference attendees. A great way to put your sleuthing techniques to use!
Friday night I went out to Puckett's of Leiper's Fork. One of my favorite places for live music. Located in charming Leiper's Fork, Tennessee, Puckett's never fails to deliver. This year it was three acts, Evie, a solo singer from Australia, a duo called Justadot, and a trio of siblings called Graceman.
The oldest performer was 19. The music was exceptional. I have no doubt we'll be hearing more from all of these musicians.
---
Saturday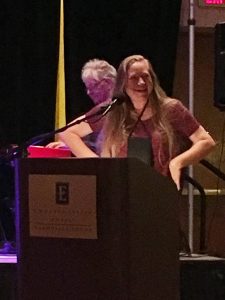 Saturday was a blur of panels, book signings, and another great lunch event. The day culminated in the awards banquet. I'm thrilled to have won a Claymore Award! I had been over-the-moon to be a finalist.
So much so, I didn't expect to make the top three and found myself in a situation I've never been before … at a total loss for words!
Congratulations to all the Claymore and Silver Falchion winners! I'm honored to be in such an illustrious group.
---
Sunday
With two panels and a book signing before a drive to the airport, two planes, then a 45-minute drive home, Sunday was a very long day! But totally worth it. Writers conferences are a great way to meet with readers, bond with other authors, and stay in touch with the industry that baffles us on a good day.
Writing can be a lonely process, but being a writer doesn't have to be. It's events like Killer Nashville that connect us together. Thank you Clay Stafford, Liz Gatterer and all the volunteers that made Killer Nashville 2018 a fantastic event!
See you next year!