Thief of Souls by Brian Klingborg: A terrific police procedural set in Northern China
Author Interview + My Thoughts on Thief of Souls + Author & Book Info + Pet Corner!
---
In Brian Klingborg's Thief of Souls, the brutal murder of a young woman in a rural village in Northern China sends shockwaves all the way to Beijing—but seemingly only Inspector Lu Fei, living in exile in the small town, is interested in justice for the victim.
Lu Fei is a graduate of China's top police college but he's been assigned to a sleepy backwater town in northern China, where almost nothing happens and the theft of a few chickens represents a major crime wave. That is until a young woman is found dead, her organs removed, and joss paper stuffed in her mouth.
The CID in Beijing—headed by a rising political star—is on the case but in an increasingly authoritarian China, prosperity and political stability are far more important than solving the murder of an insignificant village girl. As such, the CID head is interested in pinning the crime on the first available suspect rather than wading into uncomfortable truths, leaving Lu Fei on his own.
As Lu digs deeper into the gruesome murder, he finds himself facing old enemies and creating new ones in the form of local Communist Party bosses and corrupt business interests. Despite these rising obstacles, Lu remains determined to find the real killer, especially after he links the murder to other unsolved homicides. But the closer he gets to the heart of the mystery, the more he puts himself and his loved ones in danger.
---
My Thoughts on Thief of Souls
Brian Klingborg's extensive travel in China and considerable research clearly shows in this police procedural set in a fictional Chinese town. It's also a solid detective story with engaging characters that transported me to another culture.
Lu Fei, a police inspector trained in Beijing, is a charming protagonist. He's flawed enough to be interesting, compelling enough to connect with, and just enough of an underdog to root for.
The mystery itself is fully embedded in Chinese culture. While the trials and tribulations of police investigation may be universal, Lu Fei faces issues specific to living in a rapidly changing country under an authoritarian government trying to keep control of a vast and diverse population.
Klingborg defines enough of the cultural complexity to provide Westerners an understanding of the dynamics without bogging readers down in unnecessary details. He also creates complex characters, from the confident female medical examiner, to the bureaucrats that Lu Fei faces, to his unrequited love interest. Even the smaller characters have layers to them. While I can't assess Klingborg's accuracy regarding Chinese culture, his writing feels appropriate to the place and the politics, especially for the purposes of a fictional tale.
Anyone who enjoys a mystery with twists and turns to keep the reader guessing, will enjoy the plot. Add in the fascinating details of a culture many Western readers know little about, and Klingborg has an excellent start to what I can only hope will be a long and successful series.
---
Interview: Thief of Souls
Thief of Souls takes place in Raven Valley Township, a small town in northern China. What made you choose this particular location to set a police procedural?
Given the fact that I'm a westerner writing about China, I felt a heavy sense of responsibility to portray characters and a setting that are true to life and carefully nuanced. Also, besides hopefully telling a good story, I wanted to explore some of the social and political issues China is facing today.
Limiting myself to a few major characters and locations seemed like the best way to keep things simple and focused.
What should readers know about Lu Fei?
Lu Fei is a bit of a contradiction. He's a student of classical Chinese poetry and philosophy living in a rapidly transforming society that has rejected old values and traditions. He's a sensitive soul who also happens to be a cop.
Having witnessed injustice and corruption first-hand, he has chosen his profession not to punish criminals, but to help the weak and vulnerable. He presents a detached, sardonic exterior, but has a soft heart. He also drinks too much and pines for the love of a beautiful widow named Yanyan.
Tell us about your writing process for this book:
I've been writing for a long time with very little success. My first book, Kill Devil Falls, started out as a screenplay, which was optioned (for no money) and never made. I later despaired of ever selling a screenplay and rewrote it as a book. To my surprise, it was quickly snapped up (for very little money) and published. It also quickly went out of print.
Other books followed, mostly crime novels, but they failed to resonate with publishers. Then I got the bright idea to write a book set in China to leverage my years of studying Chinese history and language and living in Asia. Naturally, it would be mystery based around a clever police officer who cracks wise, recites poetry, knows kung fu, and enjoys the occasional (ok, more than occasional) drink.
I knew from the outset that I wanted to use the plot as a stepping-stone to explore some of the daily challenges faced by Chinese citizens. I conducted a ton of research on social issues, law enforcement, politics, religion, infrastructure, architecture, geography—you name it—to create a story based on a factual framework.
Approximately 10 months and countless drafts later, I had a finished book. Once the initial revisions were complete, my publisher and I went so far as to contract a Chinese PhD student at Oxford University to give it a read with an eye toward pointing out anything that seemed inaccurate or insensitive.
As international travel has been severely restricted for more than a year now, I hope Thief of Souls will take readers on an enjoyable journey and provide some insights into a country that is becoming increasingly relevant to their daily lives.
You are a practitioner of (and writer about) Chinese martial arts. What drew you to that?
I originally started out in the martial arts for the same reasons most teenage boys do—I wanted to gain some sort of super ninja skills. I joined a karate dojo and my fantasies soon collided with my intrinsic laziness and aversion to suffering. I also didn't love the atmosphere of the dojo. It was a bit too authoritarian for my taste.
Later I decided to give martial arts a second shot and joined a kung fu school. This was much more to my liking. The hard work remained, but it was more of a family atmosphere.
My teacher, Lai Hung, was famous as a fighter in Asia, but not so well known in the US.  I felt that was an injustice, so I eventually wrote a book featuring him called Secrets of Northern Shaolin.
As I've gotten older, the martial arts have, for me, become less about practical application and more about the friendships I've made and adventures I've experienced. I still value practicality, however, and try to incorporate this into my fictional fight scenes. Lu Fei may be good at kung fu, but if he's outnumbered and weaponless, he's probably going to get a beat-down.
What are you working on now?
I'm working on a sequel to Thief of Souls and some film projects that may or may not ever see the light of day.
Words of Wisdom for Aspiring Writers:
First, it may be self-evident, but if you want to be a writer, you have to write.
I can't tell you how many times when someone finds out I'm an aspiring writer they tell me their plans for writing a novel, a memoir, a screenplay. Most of them will never do it. Talk less, write more.
Second, apart from a brilliant and lucky few, you're going to have to learn to deal with rejection. A lot of rejection. Keep learning and growing and above all, keep writing.
Third, writing is re-writing.  Don't worry about crafting perfect sentences from the get-go—it's never going to happen.  Get your ideas down on paper as quickly as you can, then go back and rewrite, edit, rewrite, polish, rewrite again—you get the idea.
Author Pet Corner!
I grew up in a small town where my father worked as a veterinarian.  We generally had at least one dog and a couple of cats around the house, as well as a handful of sheep.  Many years later, I found myself in a cramped New York apartment wondering what kind of pet to get my two young daughters.  A big dog (my preference) was out of the question, and I've never considered myself much of a cat person, so the logical choice was, naturally, two rats—Basil and Tickles.
After the rat brothers passed on, I bowed to a high-pressure campaign waged by my daughters and we upgraded to a cat—Sherlock.
He's not very good at deductive reasoning, but he can hear a can of tuna fish being opened manually from a mile away.
---
Brian Klingborg: Author of Thief of Souls
Brian Klingborg has both a B.A. (University of California, Davis) and an M.A. (Harvard) in East Asian Studies and spent years living and working in Asia.
He currently works in educational publishing and lives in New York City.
Klingborg is also the author of Kill Devil Falls.
To learn more about Brian, click on his name, photo, or any of the following links: MacMillan Books, Twitter & Goodreads
---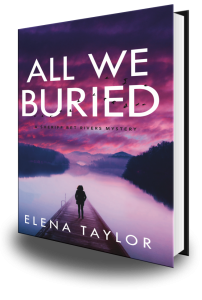 Elena Taylor is the author of All We Buried, available now in print, e-book, and audio book format at all your favorite on-line retailers. And don't forget many independent bookstores can order books for you and have them shipped to your home or for curbside pickup.
Amazon Kindle Monthly Deal, $1.99 May 1-31
For more information on All We Buried, click on the link here to visit the home page.
Foreword INDIE Award Finalist, Best Mystery 2020