Kate Young launches her latest Marygene Brown Mystery.
Character Interview + Book & Author Info + Author Pet Corner . . . plus a yummy recipe!
At a murder mystery–themed wedding reception on Georgia's picturesque Peach Cove Island, the bride is doing an awfully good job playing dead . . .
Marygene Brown always figured she'd marry her childhood sweetheart, Alex Myers, not cater his wedding. But the Peach Diner could use the exposure.
Most of the island is showing up—although more for the role-playing murder game at the reception than for the widely loathed bridezilla, Lucy Carmichael. Marygene may have to smile through the festivities, but Mama doesn't have to hold her peace—especially since only Marygene can hear her mother's ghost.
Mama says she sees an aura of darkness around the wedding.
So when Marygene finds Lucy lying beside the wedding cake, buried in batter, with no pulse, it looks like Mama called it. This is no game.
And when the bride's body simply vanishes, it's up to Marygene and her best friend Betsy (cousin to the groom and no fan of the bride) to solve a real-life mystery—with a little help from Mama's sassy spirit . . .
Includes Seven Recipes from Marygene's Kitchen!
Southern Sass and a Battered Bride (A Marygene Brown Mystery)

Cozy Mystery
3rd in Series
Publisher: Kensington (April 27, 2021)
Mass Market Paperback: 352 pages
ISBN-10: 1496721497
ISBN-13: 978-1496721495
Digital ASIN : B08F2WNNPQ

To purchase the book, click on any of the following links: Amazon – B&N – Kobo – IndieBound
---
Interview with Marygene Brown, the star of Southern Sass and a Battered Bride by Kate Young
Marygene, trouble seems to follow you wherever you go. Tell us a little bit about your latest adventure, Southern Sass and a Battered Bride:
Sure, I'd be glad to.
Trouble does indeed seem to follow me. As ridiculous as it sounds, my mama, Clara Brown, is tied to the island and has been since the day she passed.
She wasn't what you'd call a pure heart in life, and now the powers-that-be forced her to remain in limbo on Peach Cove until she makes amends. I'm not sure what qualifies as amends, or what it would take to satisfy the requirement. For all I know, she can be here my entire life span or be gone tomorrow.
I do understand that if a soul was forced to remain as an island spirit, it created an energy around the person they were communicating with. An aura, if you will. The deceased are drawn to said person, i.e., me.
Hence the trouble that does indeed follow me.
As to my latest adventure, allow me to set the stage:
The wedding party seemed to be lining up for pictures, and the guests were starting to corral near the tent.
When I got inside, my crew was nowhere to be seen. I could see Paul through the window on the opposite side of the tent. I searched for my staff and nodded approvingly when I walked around the first few tables with beautifully lit candles positioned around the pink Stargazer centerpiece.
From here, the wedding cake appeared to be holding up nicely. I moved closer.
My smile faltered, and I squeaked in surprise.
My hand went to my parted lips.
On the floor in front of the wedding cake table lay Lucy, covered in what could only be funnel cake batter . . .
And that's how my day from hell began. Y'all are in for a wild ride.
On a scale of one to she-deserved-what-she-got, was Lucy Carmichael really that much of a bridezilla? Or were you a little jealous that she got your childhood sweetheart to pop the question?
Lucy is indeed that awful. But I guess I was also a little jealous. I mean, who wouldn't struggle with seeing their high school sweetheart wed a she-devil.
How much does your author get to decide events and how much do you take over and reveal the story to her?
Hmm. That's an interesting question. I would say the author begins with an idea and then I help decide how the story unfolds.
Can you tempt us with some of the recipes from your latest caper?
I'm always willing to share recipes. We Browns are foodies through and through.
Prosecco Strawberry Cupcakes
FOR THE CUPCAKES
1 box white cake mix
1/3 cup vegetable oil
3 egg whites
1 1/4 cups prosecco
1/4 cup strawberry preserves
FOR THE FROSTING
3 cups powdered sugar
1/3 cup butter, softened
1 1/2 teaspoons pure vanilla extract
3 tablespoons prosecco
For the strawberry topping
4 sliced strawberries
1 teaspoon sugar
Preheat oven to 350°F and line a cupcake tin with cupcake liners.
Beat cake mix, egg whites, oil, and prosecco until thoroughly combined (it will be bubbly).
Fold in strawberry preserves, then fill each cup of the muffin tin about two-thirds of the way full with cake mix. Bake according to the box instructions for cupcakes—typically for 18 to 20 minutes—or until a toothpick inserted in the center comes out with just a few crumbs (no gooey batter).
Set aside to cool.
For the frosting: In a medium-sized mixing bowl, beat sugar and butter on low until combined. Gradually stir in vanilla and prosecco, starting with just 1 tablespoon and gradually adding more until the consistency is smooth and easy to spread. (If it gets too thin, add a spoonful of powdered sugar.) Frost each cupcake.
For the strawberry topping: Slice strawberries and add sugar. Let them sit for 18 to 20 minutes to release juices, then top each cupcake with a slice.
That sounds delicious!! I have to try that recipe.
Tell us about Peach Cove Island, what makes it the perfect place to run a diner . . . or solve a murder!
Peach Cove is a beautiful island off the coast of Savannah, GA. It's has a small town vibe with gorgeous beaches and friendly people. I guess I'm partial being a GA coastal girl through-in-through.
What's up next for you?
I'm going to rest up and soak up lots of sun. As to the future… who knows. But I'll be ready for it.
Do you have any words of wisdom for other characters out there fighting to be heard by their writers?
No words of wisdom. I think that is probably a timing thing. One day it may be your story being told.
Author Pet Corner with Kate Young!
Bella — our 12 year old Shih Tzu loves to sit in the sun and nap.
Baxter — our 1 year old Shih Tzu pup is always full of energy and never says no to a long walk.
These are such cute doggos!
---
Kate Young
Kate Young writes Southern mystery novels.
She is a member of Sisters in Crime and the Guppy Chapter.
Kate lives in a small town in Georgia with her husband, three kids, and Shih Tzu.
When she is not writing her own books, she's reading or cooking.
To learn more about Kate, click on her name, photo, or any of the following links: Facebook, Twitter, GoodReads & BookBub
---
Visit All the Stops on Kate Young's Great Escapes Book Tour
April 26 – I'm All About Books – SPOTLIGHT
April 26 – Cinnamon, Sugar, and a Little Bit of Murder – REVIEW, RECIPE
April 26 – Angel's Guilty Pleasures – CHARACTER INTERVIEW
April 26 – FUONLYKNEW – SPOTLIGHT
April 27 – Christy's Cozy Corners – REVIEW
April 27 – Ruff Drafts – SPOTLIGHT, RECIPE
April 27 – I Read What You Write – REVIEW, AUTHOR INTERVIEW
April 28 – Author Elena Taylor's Blog – CHARACTER INTERVIEW
April 28 – Escape With Dollycas Into A Good Book – REVIEW
April 28 – My Journey Back the Journey Back – CHARACTER GUEST POST
April 29 – Celticlady's Reviews – SPOTLIGHT
April 29 – Literary Gold – REVIEW
April 29 – Thoughts in Progress – SPOTLIGHT
April 29 – Baroness' Book Trove – REVIEW
April 30 – A Wytch's Book Review Blog – REVIEW
April 30 – Maureen's Musings – SPOTLIGHT
April 30 – My Reading Journeys – REVIEW
April 30 – Books a Plenty Book Reviews – REVIEW
May 1 – Paranormal and Romantic Suspense Reviews – SPOTLIGHT
May 1 – ebook addicts – SPOTLIGHT
May 1 – Sapphyria's Book Reviews – SPOTLIGHT
May 2 – Cozy Up With Kathy – REVIEW
May 2 – Diane Reviews Books – REVIEW
May 2 – Tea Book Blanket – SPOTLIGHT
---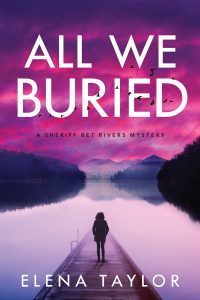 Elena Taylor is the author of All We Buried, available now in print, e-book, and audio book format at all your favorite on-line retailers. And don't forget many independent bookstores can order books for you and have them shipped to your home or for curbside pickup.
Foreword INDIES Finalist, Best Mystery 2020
For more information on All We Buried, click on the link here to visit the home page.