Pursuit of the Truth. Visit all the stops along the Great Escapes Virtual Book Tour!
Review + Book & Author Info + Rafflecopter Giveaway
---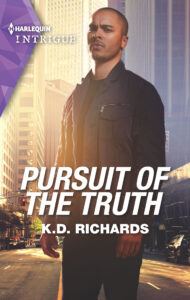 Pursuit of the Truth (West Investigations)

Romantic Suspense
1st in Series
Publisher: Harlequin Intrigue (January 26, 2021)
Mass Market Paperback: 256 pages
ISBN-10: 1335401539
ISBN-13: 978-1335401533
Digital ASIN: B08CSRDVWK

His skills can keep her safe
Her secrets could get them killed…
Security expert Ryan West's worst fears come to life when hotel CEO Nadia Shelton is pushed in front of a taxi and nearly killed.
Someone will do whatever it takes to find the brother Nadia thought was dead, and the only way Ryan can protect her as they uncover the truth is to stay strictly professional. But the sparks igniting between them are nearly impossible to ignore.
From Harlequin Intrigue: Seek thrills. Solve crimes. Justice served.
To purchase the book, click any of the following links: Amazon – Kobo – Harlequin – B&N
---
My Thoughts on Pursuit of the Truth
If you like a little steam with your suspense, Pursuit of the Truth is the book for you.
KD Richards' debut novel introduces security expert Ryan West and hotel CEO Nadia Shelton. He may provide security for her hotel and strive to keep things professional, but the sizzle between them can't be ignored. When someone pushes Nadia in front of a taxi as she walks to work, Ryan's protective instincts go into overdrive. But who would want to kill the CEO of a boutique NY City hotel?
The list of suspects grows as Ryan West digs into the situation, with Nadia right there with him every step of the way. As the investigation continues, Nadia's brother appears at the heart of whatever danger swirls around her, but he died eleven months ago.
Or did he?
Other dangerous events occur, masked gunmen, arson, and Nadia's ex on the scene to make waves. All of which throw Nadia off-kilter while Ryan struggles to keep her safe. Every move increases the stakes and the sexual tension. It's not long before the two team up—in a professional capacity—but how long can they keep it that way?
A solid mystery entwined with steamy romance makes for a fun and dynamic read. KD's characters are well-rounded and flawed, but also sexy and exciting.
The Harlequin Intrigue series is dedicated to romantic suspense with strong female characters who are "no-nonsense, resilient, confident, determined and empowered." The books also require a male lead who is "strong, protective and capable, he is not afraid to break the rules in order to see justice done and to protect the innocent."
Nadia Shelton and Ryan West fit the bill to a T.
Nadia proves her strength as she strives to fill the hole left behind when her brother vanished, forcing her to take over his role as well as her own to keep the family hotel alive. She's determined to keep the hotel not just running, but expanding. She proves herself capable of facing anything the hospitality industry can throw her way, but she wasn't anticipating attacks on her life.
Ryan has the skills and the fearlessness of a warrior, determined to keep the woman he loves from harm, and he'll do whatever it takes to make that happen.
No graphic sex or gratuitous violence mar the perfect escapist read with Richards' thrill-a-minute debut.
Fans will be happy to know the second book launches December 2021. I can't wait to see where Richards takes her characters next.
Check back for my author interview with KD Richards, posting February 28!
---
KD Richards, Author of Pursuit of the Truth
K. D. Richards is the pseudonym for Kia Dennis.
Kia was born and raised in the Maryland suburbs just outside of Washington, D.C. A writer since a young age, after college she earned a law degree and worked as an attorney and legal instructor for fifteen years but never stopped writing fiction.
She currently lives in the Toronto area with her husband and two sons. Sign up for her newsletter at kdrichardsbooks.com and follow her on Twitter @kiadwrites
To learn more about KD, click on her name, photo, or any of the following links: Facebook, Instagram, Amazon & Goodreads
---
---
Visit all the stops along the Pursuit of the Truth tour!
January 25 – I'm All About Books – SPOTLIGHT
January 26 – Bea's Book Nook – REVIEW
January 27 – Literary Gold – CHARACTER GUEST POST
January 28 – Maureen's Musings – SPOTLIGHT
January 28 – Escape With Dollycas Into A Good Book – AUTHOR INTERVIEW  
January 29 – Sapphyria's Book Reviews – SPOTLIGHT
January 30 – The Book Diva's Reads – GUEST POST
January 31 – Mystery Thrillers and Romantic Suspense Reviews – SPOTLIGHT
February 1 – I Read What You Write -GUEST POST
February 2 – Mysteries with Character – AUTHOR INTERVIEW
February 3 – Author Elena Taylor's Blog – REVIEW
February 4 – MJB Reviewers – SPOTLIGHT
February 5 – Socrates Book Reviews – REVIEW
February 6 – Brooke Blogs – REVIEW
February 7 – Celticlady's Reviews – SPOTLIGHT
---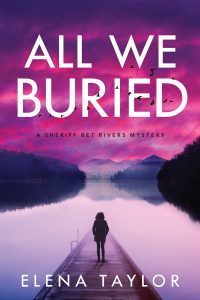 Elena Taylor is the author of All We Buried, available now in print, e-book, and audio book format at all your favorite on-line retailers. And don't forget many independent bookstores can order books for you and have them shipped to your home or for curbside pickup.
For more information on All We Buried, click on the link here to visit the home page.