Ellen Byron launches her latest Cajun Country Mystery: Murder in the Bayou Boneyard
Welcome to the Great Escapes Virtual Book Tour for Ellen Byron's Murder in the Bayou Boneyard
Visit all the stops along the tour to learn more about Ellen Byron and her latest release.
REVIEW + Rafflecopter Giveaway
---
The Book
Murder in the Bayou Boneyard: A Cajun Country Mystery
Cozy Mystery
6th in Series
Publisher: Crooked Lane Books (September 8, 2020)
Hardcover: 304 pages
ISBN-10: 1643854607
ISBN-13: 978-1643854601
Digital ASIN: B082H3BT6F
Maggie Crozat has the Halloween heebie-jeebies in USA Today bestselling and Agatha Award-winning author Ellen Byron's howlingly funny sixth Cajun Country mystery.
Maggie Crozat, proprietor of a historic Cajun Country B&B, prefers to let the good times roll. But hard times rock her hostelry when a new cell phone app makes it easy for locals to rent their spare rooms to tourists. With October–and Halloween–approaching, she conjures up a witch-crafty marketing scheme to draw visitors to Pelican, Louisiana.
Five local plantation B&Bs host "Pelican's Spooky Past" packages, featuring regional crafts, unique menus, and a pet costume parade. Topping it off, the derelict Dupois cemetery is the suitably sepulchral setting for the spine-chilling play Resurrection of a Spirit. But all the witchcraft has inevitably conjured something: her B&B guests are being terrified out of town by sightings of the legendary rougarou, a cross between a werewolf and vampire.
When, in the Dupois cemetery, someone costumed as a rougarou stumbles onstage during the play–and promptly gives up the ghost, the rougarou mask having been poisoned with strychnine, Maggie is on the case. But as more murders stack up, Maggie fears that Pelican's spooky past has nothing on its bloodcurdling present.
---
My Thoughts on Murder in the Bayou Boneyard by Ellen Byron
Murder in the Bayou Boneyard has everything a reader wants in a cozy.
A sassy amateur sleuth, a scattering of animals (including a hilarious talking parrot), enough murder and mayhem to keep things interesting, and a touch of romance. Finished off with food descriptions to make your mouth water and the recipes at the back of the book and this is a feast for the imagination.
Can be Read as a Standalone
For those who have read the previous books, Murder in the Bayou Boneyard continues to develop the characters and the larger arcs for the series. For those who are starting the series with this book, there are enough references to catch the reader up on past events, without making the reader feel left out.
Terrific Location
Louisiana is a marvelous place to set a mystery. Between the supernatural creatures, complicated history, and local superstitions, there's plenty of material for Byron to work with. Add in spooky old plantations and longstanding family histories and the backdrop for Maggie's investigation sizzles.
Readers will Root for the Protagonist
Maggie Crozat is not a fan of Halloween, and this year gives her plenty of reasons to feed her dislike, but the intrepid protagonist proves herself a worthy adversary and her experiences might just change her mind about the holiday . . . or maybe not!
A great escape from the challenges of 2020, Murder in the Bayou Boneyard will cement Byron's place in your reading repertoire. Whether she's an old friend that you get to visit again or a brand new reading experience, her latest release will keep you up at night . . . in a good way.
---
Ellen's Cajun Country Mysteries have won the Agatha award for Best Contemporary Novel and multiple Lefty awards for Best Humorous Mystery.
Her Catering Hall Mystery series, written as Maria DiRico, launched with Here Comes the Body and was inspired by her real life.
She's an award-winning playwright and non-award-winning TV writer of comedies like WINGS, JUST SHOOT ME, and FAIRLY ODD PARENTS, but she considers her most impressive credit working as a cater-waiter for Martha Stewart.
A native New Yorker who attended New Orleans' Tulane University, she lives in Los Angeles with her husband, daughter, and rescue furbaby. Sign up for her newsletter by clicking the link here.
To learn more about Ellen, click on her name, photo, or any of the following links: Facebook, Instagram, BookBub (Ellen Byron), BookBub (Maria DiRico), Goodreads (Ellen Byron), Goodreads (Maria DiRico), and Amazon (Ellen Byron) and Amazon (Maria DiRico)
---
Want to learn more about Ellen? Click the link here to read an author interview!
---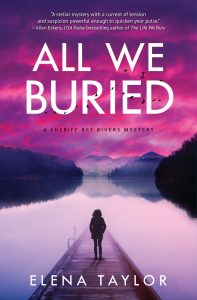 Elena Taylor is the author of All We Buried, available now in print, e-book, and audio book format at all your favorite on-line retailers. And don't forget many independent bookstores can order books for you and have them shipped to your home or for curbside pickup.
For more information on All We Buried, click on the link here to visit the home page.