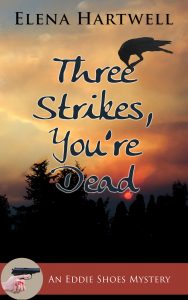 Authors often do live events at bookstores, libraries, and conferences.
Travel is part of the package in this career. Travel is both exciting and exhausting. From the crowds at conventions to the anxiety about whether or not anyone will show up for a book event, it's a challenge, but one I love to undertake.
My most recent travel plans were to support Three Strikes, You're Dead, the third in the Eddie Shoes Mystery Series. I had a marvelous time in California at two bookstores, Gatsby Books in Long Beach on April 14 and Mysterious Galaxy in San Diego on April 15.
Independent Bookstores Rock.
One of the things I enjoy most about being a writer is doing events with other authors.
For Gatsby Books, I got to join Christina Hoag. We're a great match for an author event, she comes from a Journalist background, I come from a Theatre background. We're both a couple years into our "novelist" careers, she has Skin of Tattoos and her YA novel, Girl on the Brink. We also have similar struggles. We know what the other has gone through to get to this point and where we strive to go. Having another person who understands this journey helps with the isolation aspect of writing alone most of the time in one's room.
"Having another person who understands this journey helps with the isolation aspect of writing alone most of the time in one's room."
Gatsby Books is a small, but excellent bookstore in Long Beach California, just off the 405 Freeway. Our audience was lovely.  Christina and I "interviewed" each other—with help from our audience, who asked great questions. The folks at Gatsby Books were friendly and helpful and clearly love books and the people who write them.
Plus, they have a cat. Who doesn't love a bookstore with a cat?
---
Mysterious Galaxy is one of my favorite bookstores. The store specializes in mystery, thriller, and sci-fi. Even better, it's about ten minutes from where my parents live.
For the Mysterious Galaxy event, Christina and I were joined by San Diego author, Corey Lynn Fayman. Corey was the perfect addition to our duo. He also has three books out in his Rolly Waters series. The turnout was excellent—San Diego is my hometown and Mysterious Galaxy is well-known for their author events.
Like the Gatsby event, we asked each other questions and the audience participated as well. Both events ran about an hour and we signed books afterward. That's always a wonderful feeling. To know that a reader wants your work and that having you sign it makes it an even better experience. It's like the curtain call at the end of the play. A way to engage with the reader and say thank you for buying my book, thank you for reading, thank you for supporting an independent bookstore.
Amazon plays a huge role in most writer's careers, but Independent Bookstores are fundamental as well. They are places where people can come together to find new authors, get the latest book from their favorite writers, and hear professionals talk about their work. If you'd like to learn about Independent Bookstore Day (The last Saturday in April), click the link here.
---
I'd flown from Seattle to Los Angeles for the Gatsby Books' event, so I had to get from Long Beach to San Diego. My plan was to rent a car, but the drop off fee for a one-way rental was ridiculously expensive. I checked out Amtrak, TesLoop, and Uber. What I landed on was the good ol' Greyhound Bus.
"It's low budget travel at its best."
It was perfect. There's something nostalgic for me about heading out into the dark on a bus. I've ridden Greyhound before.
It feels like the ultimate American ride. Anonymous driver. A lot of empty seats. The new buses have WIFI and outlets for your gadgets. It's low budget travel at its best. It is not glamorous, but it was peaceful. I wasn't groped by a TSA agent. I didn't stand in line to go through security. I didn't have to arrive an hour and a half before my trip. It cost me $18.
Arriving in San Diego, Mom and Dad were there to pick me up at the station. Priceless.
After a week in San Diego with family and friends, I headed back up to SeaTac on United. I'm a 1K member, and they treat me very well. I got the free upgrades for both flights and flew first class.
In some ways, the two trips are the perfect metaphor for a writing career. Sometimes, you travel by bus. Sometimes you fly first class. But no matter what, you reach your destination. And then you plan your next trip.
I'll see you all in Deadwood, South Dakota for Wild Deadwood Reads. Travel by car. Another adventure.