Death by Donut is the fifth in the Pismawallops PTA Mystery Series, but can be read as a standalone.
Review + Author & Book Info + Rafflecopter Giveaway
---
Death by Donut by Rebecca M. Douglass
Election day's almost here, and the island's new pool is on the line. JJ should be all in with the campaign, but when a prominent Island businessman drops dead at her feet in the Have-A-Bite Bakery, someone has a mystery to solve. JJ's fiancé—police chief Ron Karlson—is out of town.
Who else is there?
JJ is missing her sweetheart, tired of the winter rains, and distracted by everybody's questions about when the wedding's happening.
Even more worrying, her foster-daughter's father has failed to show up on schedule. No wonder JJ's struggling to wrap this one up before someone else bites into the wrong donut.
There's no time to lose, because something truly essential is on the line: saving the bakery—and JJ's favorite espresso brownies!
Death By Donut (A Pismawallops PTA Mystery)

Cozy Mystery
5th In Series
Independently Published (May 16, 2021)
~200 Pages
Digital ASIN: B08VKSZV2D

---
My Thoughts on Death by Donut 
JJ MacGregor has more than enough on her plate with her fiancé pushing her to set a date and her foster-daughter's father missing, but when her favorite bakery comes under suspicion for killing a man with baked goods, she knows that might be the one thing she can't survive.
Brady Ginnis, half-owner of the Dairy Prince, staggers around the Have-A-Bite bakery, looking for all the world like he's choking to death. But JJ just happens to be at the next table and realizes it's anaphylactic shock, not a lodged bakery item, that's turning his face blue.
She finds herself "volunteering" to help and drives the ambulance so the young EMT can do everything she can to save the man. They manage to get him to the Pismawallops medical clinic in one piece, but despite their heroic efforts, the accidental ingestion of the allergen turns fatal.
But was it an accident?
You can be assured something more nefarious is going on and JJ is just the amateur sleuth to see justice is done.
Readers know a murder isn't enough to make a mystery compelling, however, and Douglass doesn't disappoint. She invests JJ with several personal problems that also compete for her attention. Between her commitments to her community, her fiancé, and her kids, she's got plenty to keep her busy. Add in her financial worries and JJ is pulled in every direction, making for an empathetic protagonist we can't help but root for.
Throw in the mouthwatering desserts, and Douglass provides a delightful page-turner perfect for cozy readers, filled with fun characters, enough suspects to keep up the suspense, and the atmospheric background of an island in the Pacific Northwest.
Even those who haven't read the first four in the series will enjoy this latest installment. Douglass drops in just enough information for new readers to follow events, and likely leave them hungry to go back and devour the earlier books.
So grab an espresso brownie and your favorite coffee drink and settle in for a darn good mystery—Death by Donuts is a very sweet read.
---
Rebecca M. Douglass was raised in Washington State on an island only a little bigger than Pismawallops.
Though she has lived most of her adult life in California, the salt waters of Puget Sound continue to call to her and she enjoys owning an island in the Salish Sea, even if she had to invent one to do so!
Rebecca has written a number of children's books as well as her Pismawallops PTA mysteries and has had short stories published in several anthologies.
When she isn't writing, she likes to spend her free time hiking and biking, and her vacations exploring the outdoor world by camping, hiking, and backpacking.
---
Visit all the stops along the tour!
May 17 – Literary Gold – SPOTLIGHT
May 17 – Laura's Interests – SPOTLIGHT
May 18 – Novels Alive – GUEST POST
May 18 – I'm All About Books – SPOTLIGHT
May 19 – Hearts & Scribbles – SPOTLIGHT
May 19 – Sapphyria's Book Reviews – SPOTLIGHT
May 20 – Brooke Blogs – SPOTLIGHT
May 21 – Books to the Ceiling – AUTHOR INTERVIEW
May 21 – Diane Reviews Books – SPOTLIGHT
May 22 – Ruff Drafts – GUEST POST
May 22 – FUONLYKNEW – SPOTLIGHT
May 23 – Author Elena Taylor's Blog – REVIEW
May 24 – Celticlady's Reviews – SPOTLIGHT
May 24 – My Journey Back the Journey Back – AUTHOR INTERVIEW
May 25 – Christy's Cozy Corners – GUEST POST
May 25 – Brianne's Book Reviews – REVIEW
May 26 – My Reading Journeys – REVIEW
May 26 – Ascroft, eh? – CHARACTER INTERVIEW
May 27 – Baroness' Book Trove – SPOTLIGHT
May 27 – Escape With Dollycas Into A Good Book – SPOTLIGHT
May 28 – BookishKelly2020 – SPOTLIGHT  
May 28 – Maureen's Musings – SPOTLIGHT
---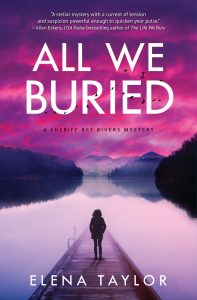 Elena Taylor is the author of All We Buried, available now in print, e-book, and audio book format at all your favorite on-line retailers. And don't forget many independent bookstores can order books for you and have them shipped to your home or for curbside pickup.
Amazon Kindle Monthly Deal, $1.99 May 1-31
For more information on All We Buried, click on the link here to visit the home page.
Foreword INDIE Award Finalist, Best Mystery 2020