Kelly Pruett returns in Mary Keliikoa's latest novel, Denied. Catch up with the author and her sassy protagonist in our author interview!
Author Interview + Book & Author Info + Pet Corner
---
Denied, a Kelly Pruett Mystery
A high-risk pregnancy. A dangerous secret. When her case turns deadly, can this investigator avoid racking up a fatal debt?
Despite her injuries, PI Kelly Pruett is eager to get back to work. So when a mommy-to-be hires her to locate her estranged dad, Kelly is thankful for the straightforward missing-persons case. But as she rummages through his trash in search of clues, she uncovers gambling debts to gangsters… and a blood-soaked severed finger.
With her investigation no longer cut-and-dried, Kelly's hunt takes a deadly turn when her quarry is found driven off a cliff to his doom. And she'll need more than her cop boyfriend's help to expose the truth when the mob sends her a cease-and-desist notice with an explosive ending.
Can the determined detective take on the mafia and make it out alive?
Denied is the second book in the gripping Kelly Pruett Mystery series. If you like strong heroines, off-the-charts tension, and breathtaking twists, then you'll love Mary Keliikoa's action-packed story.
To purchase Denied, click any of the following links: Amazon, Barnes & Noble, and IndieBound
---
The Interview
Kelly Pruett—Private Eye—is the protagonist of your latest novel Denied. What would you like readers to know about her?
Kelly is on the mend from her first case and is raring to help a classmate find her missing father. Since Kelly has her own dad issues, you know this will be something close to her heart!
Kelly has come quite a ways as an investigator since Derailed—although she still has some distance to go. However, she's tenacious, and while a bit stubborn, she'll open up a bit more about what family is.
I think you're going to like how all of the characters and their relationships grow in this next book.
Your series is set in Portland, Oregon. Tell us about that location and what makes it a great place to set a murder!
Portland is a beautiful city set along the Willamette River. It's known for its microbrews, food truck culture, rose gardens, and we do love our coffee!
That said, there are many diverse parts to it from gritty to cultural and metropolitan to serene that make up the whole.
I try to use place as a character in my novels, and I'm never at a loss of where to go with such options in not only Portland, but its surrounding areas.
Your first novel, Derailed, was nominated for a Lefty, an Anthony, and an Agatha award. Do you think that made you breathe easier with book two, because you had such success? Or did it set the bar high and make you feel like you had to top yourself?
I think the nominations made me slightly nervous on how Book 2 would be received given the praise of Derailed. But ultimately, I've done my job and the book was done before the nominations came in, so I didn't have any pre-thought about it at the time.
Ultimately, I produced the best book I could and I'm proud of how it turned out, and the progression of the characters. I want it to succeed, absolutely, but there's nothing more I can do for it.
I'm letting it be what it is and focusing on the next novel, writing it to the best of my ability too.
Has your writing process changed now that you are a published author? If it has, in what way, if it hasn't, tell us about your writing process.
I'm a believer in routine, so in many ways my writing process hasn't changed a lot. I show up at the computer 5-6 days a week and put in 2-4 hours at a time.
I will say before I was published, I had the luxury of finishing a project at my leisure so if I put in 500 words, I was fine and I'd come back the next day. After I signed a contract, and knowing I have deadlines, and so many story ideas I want to get to, I make sure I get my word count in (generally around 2000 words) before I call it a day.
When you're not hanging out in the Pacific Northwest, you're in Hawaii, one of my favorite places. What connects you to Hawaii and what do you love about recharging there?
My true Hawaiian connection is my husband of 32 years. He was born and raised here and when he brought me here the first time, I knew I'd come home. I spent a lot of my childhood at the Oregon coast, and I was always drawn to the ocean, but it was cold and swimming wasn't done too often. But on the islands, I can fully enjoy the water.
The ocean sounds are very calming, and I find I can spend hours combing for shells, feet in the sand, and contemplating life. It's a wonderful place to be and when I'm not on the islands, I'm planning my return the moment I land.
What are you working on now?
Book 3, Deceived, was accepted by the publisher recently, and my new series (featuring a small town sheriff set at the Oregon coast) with Level Best Books will become the focus in early 2022 for publication in September of that year.
So right now I'm focusing on my current work in progress, which is about a paralegal who is forced outside of her comfort zone when her boss is discovered murdered, her sister has gone missing, and the two events seem inextricably linked.
Words of Wisdom for Aspiring Writers:
Keep writing, keep working on your craft, and connect with people who truly support you. I love being published, I love being nominated, but mostly, I love to write and talk story with other people who love to write and to read.
Community is everything.
People who help pick you up when you're down (and in writing, it's guaranteed there will be those days), is just as important as anything you will ever do in the writing life. Find your community, embrace it, and pay it forward. Always.
Excellent advice!
Author Pet Corner!
Meet Bella!
---
Kelly Pruett's author, Mary Keliikoa
Mary Keliikoa is the author of the Lefty and Agatha award nominated PI Kelly Pruett mystery series and the upcoming Misty Pines mystery series featuring Sheriff Jax Turner slated for release in September 2022.
Her short stories have appeared in Woman's World and in the anthology Peace, Love and Crime: Crime Fiction Inspired by Music of the '60s.
A Pacific NW native, she spent a part of her life working around lawyers. Combining her love of legal and books, she creates a twisting mystery where justice prevails.
When not in Washington, you can find Mary on the beach in Hawaii where she and her husband recharge. But even under the palm trees and blazing sun, she's plotting her next murder—novel that is.
To learn more about Mary, click on her name, photo, or any of the following links: Facebook, Instagram, Twitter & Goodreads
---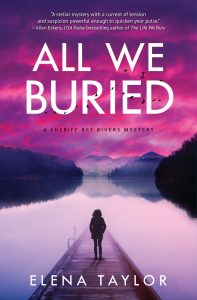 Elena Taylor is the author of All We Buried, available now in print, e-book, and audio book format at all your favorite on-line retailers. And don't forget many independent bookstores can order books for you and have them shipped to your home or for curbside pickup.
Amazon Kindle Monthly Deal, $1.99 May 1-31
For more information on All We Buried, click on the link here to visit the home page.
Foreword INDIE Award Finalist, Best Mystery 2020
Header photo of Portland by David Mark on Pixabay.