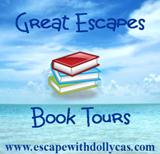 A Humorous Culinary Cozy Mystery Short Read by D.E. Haggerty
Visit all the stops along the Great Escapes Virtual Book Tour
Character Interview + Author & Book Info + Rafflecopter Giveaway
---
A Humorous Culinary Cozy Mystery: Saint Vandal's Day
Saint Vandal's Day: A Humorous Culinary Cozy Mystery Short Read (Death by Cupcake)
Cozy Mystery
7th in Series
Independently Published (January 1, 2021)
Print length: 104 pages
Digital ASIN: B08FX45TC7
St. Valentine's Day is THE perfect day for a wedding. Unless a vandal is trying to ruin your life that is.
Callie is finally getting her dream wedding. On St. Valentine's Day no less. Only a vandal is determined to destroy her bakery before the wedding can occur. Anna, self-proclaimed best cupcake baker this side of the Mississippi, is not letting anything happen to the cupcake bakery. No way. Barista extraordinaire Kristie jumps at the chance to help as well. Together the three women launch a mission to find the jerk who thinks it's okay to attack the bakery.
Will the gals of Callie's Cakes find the vandal and save the cupcake bakery before Callie's dream wedding is ruined?
Cupcakes not included, although recipes for all the delicious cupcakes Anna bakes are.
To buy the book, click on the following link: Amazon
---
Character Interview
Hi Callie, Anna, and Kristie, so great to have all of you on my blog today. I'm looking forward to learning more about all of you.
Thanks for having us!
Callie, you're getting married! Tell us about your fiancé.
Ben is a hunky detective who for reasons I cannot begin to fathom loves me. He's gentle and sweet even if he is six-foot tall and built like a linebacker. *Sigh*
Anna and Kristie, how do you feel about the man Callie is going to marry?
Anna: Well, I got them together, so I'm feeling pretty pleased with myself.
Kristie: *rolls eyes at Anna* Ben is awesome. He treats Callie like a princess, which is exactly what she deserves.
Callie: Ah, thanks, guys.
Anna, you claim to be the best cupcake maker this side of Mississippi, what's your favorite recipe?
Oh, favorite recipe? That's a tough one. My Valentine's Day surprise cupcakes are pretty awesome. You open up the vanilla cupcakes and – bam! – there's a heart surprise inside.
Kristie and Callie, do you have a favorite cupcake that Anna makes?
Kristie: That's easy – eggnog latte cupcakes. They're topped with espresso frosting. Yum.
Callie: I have to choose just one? So unfair. Of course, anything with chocolate gets top billing in my world. Her new recipe Ferrero Rocher Stuffed Cupcakes are pretty awesome. Devil's Food cupcakes with Nutella buttercream frosting and topped with Ferrero Rocher. Mmm…
You all are making me hungry! Kristie, I love a good cappuccino, what's your favorite coffee drink to make and enjoy?
Kristie: I love just about any coffee, but right now I'm obsessed with Christmas peppermint coffee. It's coffee and chocolate milk and peppermint syrup all wrapped up in one delicious drink.
That sounds delicious! You three have known each other quite a while. Tell us how you all met?
Callie: *Points to Anna* This one and I have been friends since middle school when I had to rescue her from being teased for her pink hair.
Anna: *Purses Lips* As if anyone would dare to tease me.
Callie: *Points to Kristie* And this one we met when we hired her to work at Callie's Cake. Let me think. Six years ago? Yeah. Six years ago.
Kristie whispers: And now I can't get rid of them.
The three of you seem to get embroiled in a lot of mysteries, which one of you gets the others into all the trouble!
Callie and Kristie point simultaneously to Anna.
And which one of you is the best a crisis?
Callie and Kristie both point to themselves, while Anna suddenly finds the ceiling fascinating.
Getting back to the upcoming big event, what are the ingredients for a dream wedding?
Anna: Well, first you need the perfect groom. Add in a romantic location for the reception. Mix in the best friends a girl could ask for. And you've got it. Oh, and the perfect dress. Oops! Almost forgot that one.
Anna, are you baking the wedding cake?
I am. But don't ask me to tell you anything about it. It's a top secret, need to know only situation. I can tell you it is going to rock.
Callie, tell us about that perfect wedding dress.
Well, it has a beaded lace top with a sweetheart neckline and three-quarter sleeves. The skirt is made of tulle and flares out at the waist. Whenever I move, it swishes and makes me feel like a princess.
Will Anna and Kristie be in the wedding party? And if they are, what will they be wearing?
Anna and Kristie are my bridesmaids. Kristie's boyfriend is even walking me down the aisle. Anyway, the bridesmaids dresses – they're red floor-length gowns with cap sleeves and a sweetheart neckline. I just hope the tiny baker *points to Anna* doesn't trip on the length.
Lastly, can we expect to see more of your funny, cozy, culinary capers in the future?
Kristie: Nah. The boss lady says she's done helping us out of our sticky situations.
Callie: Although I wouldn't mind a few more adventures myself.
Anna: Don't worry. I have a plan to convince the boss lady to take us on a Thanksgiving and Easter adventure. Mwa ha ha!
---
About the Author of the Humorous Culinary Cozy Mystery
D.E. Haggerty is actually just plain old Dena, but she thinks using initials makes her sound sophisticated and maybe even grown up. She was born and raised in the U.S. but considers herself a Dutchie and not only because it sounds way cooler.
After a stint in the U.S. Army, she escaped the US to join her husband in Holland. She fled Holland over ten years ago when she couldn't stand the idea of being a lawyer for one single second more.
Turns out Bed & Breakfast owner in Germany didn't do it for her either.
When the hubby got a job in Istanbul, she jumped ship and decided to give this whole writer thing a go.
She's now back in Holland, which she considers home. Sorry, Mom.
To learn more about D.E. click on her name, photo, or any of the following links: Blog, Facebook, Twitter, Instagram, Goodreads, Amazon Author Page, Newsletter, Pinterest, BookBub, and LinkedIn
---
Visit all the stops on the Great Escapes Virtual Book Tour!
January 4 – I Read What You Write – REVIEW
January 5 – I'm All About Books – SPOTLIGHT
January 5 – The Pulp and Mystery Shelf – SPOTLIGHT
January 6 – Celticlady's Reviews – SPOTLGHT
January 7 – Mysteries with Character – REVIEW
January 7 – FUONLYKNEW – SPOTLIGHT
January 8 – Maureen's Musings – REVIEW
January 9 – Literary Gold – SPOTLIGHT
January 10 – Author Elena Taylor's Blog – CHARACTER INTERVIEW
January 10 – Christy's Cozy Corners – AUTHOR INTERVIEW
January 11 – Escape With Dollycas Into A Good Book – SPOTLIGHT
January 12 – Reading, Writing & Stitch-Metic – SPOTLIGHT
January 12 – Baroness' Book Trove – REVIEW
January 13 – Sapphyria's Book Reviews – SPOTLIGHT
January 14 – Ruff Drafts – SPOTLIGHT WITH RECIPE
January 14 – Lisa Ks Book Reviews – AUTHOR INTERVIEW
January 15 – Thoughts in Progress – SPOTLIGHT
January 16 – Ebook addicts – REVIEW
January 17 – Book Blog with Sylv.net – SPOTLIGHT
---
---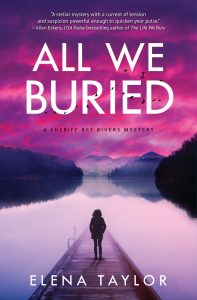 Elena Taylor is the author of All We Buried, available now in print, e-book, and audio book format at all your favorite on-line retailers. And don't forget many independent bookstores can order books for you and have them shipped to your home or for curbside pickup.
For more information on All We Buried, click on the link here to visit the home page.