Richie Narvaez launches his latest novel, a Young Adult Cozy Mystery: Holly Hernandez and the Death of Disco.
 Welcome to the latest stop on Richie Narvaez's Great Escapes Virtual Book Tour!
SPOTLIGHT!
---
Holly Hernandez and the Death of Disco by Richie Narvaez
Holly Hernandez and the Death of Disco

Young Adult Cozy Mystery
Grade Level: 10 – 12
1st in Series
Publisher: Pinata Books (May 31, 2020)
Paperback: 248 pages
ISBN-10: 1558859020
ISBN-13: 978-1558859029
Digital Publisher: Arte Público Press (June 22, 2020)
Print Length: 255 pages
ASIN: B08BQRZLTC

Holly Hernandez, voted "Miss Bright of '79" and valedictorian at her previous school, is excited to start fresh at Flatbush Technical High School, one of the most competitive public schools in New York City. She'll be one of thousands; anonymous. But her dreams of a normal school life disappear when her mother, a homicide detective, has to investigate the murder of Mr. Friedman, the social studies teacher.
One of her classmates, Xander Herrera, quickly becomes the primary suspect. The tall, awkward boy is socially inept, but Holly doesn't think he's a murderer. She is intent on exonerating him—but he wants nothing to do with her. To Xander, Holly is the overly enthusiastic student who always sits in the front row and answers all the teachers' questions—correctly. He hates perky people!
Eventually cleared of the crime, Xander is determined to find the killer before Holly. As they race to solve the case, their separate investigations lead to a slew of suspects, including another teacher seen arguing with Friedman and a mysterious person named Steve who met with him several times before his death. Could it have been a disgruntled student? Ultimately, a trophy for a disco-dancing contest leads the intrepid young detectives to the Mission Venus nightclub and a murderer intent on killing again!
To buy the book, click on any of the following links: Amazon – Bookshop – IndieBound – B&N
---
Richie Narvaez: The Author
Richie Narvaez is author of the award-winning collection Roachkiller and Other Stories and the gentrification thriller Hipster Death Rattle.
His latest novel is the historical YA mystery Holly Hernandez and the Death of Disco.
"[Narvaez] has one of the most interesting and compelling writing styles I've come across in years."     —Lawrence Kelter, author of Back to Brooklyn
To learn more about Richie, click on his name, photo or any of the following links: Facebook, Twitter, Instagram, and GoodReads
---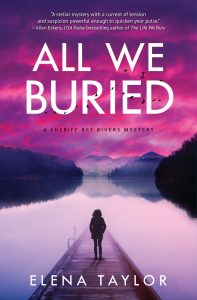 Elena Taylor is the author of All We Buried, available now in print, e-book, and audio book format at all your favorite on-line retailers. And don't forget many independent bookstores can order books for you and have them shipped to your home or for curbside pickup.
For more information on All We Buried, click on the link here to visit the home page.