Carlyle Labuschagne launches the second book in her Tethered duology. Available in the Notorious Minds Boxset.
---
To learn more about the Notorious Minds boxset, click the link here. 
---
The Books
For those who loved the TV show Medium . . .
Tethered: Book One by Carlyle Labuschagne
Willow receives a donor heart from a serial killer. She starts getting visions from The Devils Breath Killer . . . and sometimes his victims.
Veiled: Book Two by Carlyle Labuschagne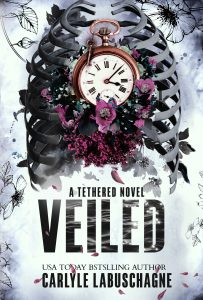 Returning home cleared of all charges Willow is welcomed by press, politicians and old high school friend and bullies alike. During her opening speech a vision strikes, hard and fast. She falters, her fingers find a pen and she start scribbling and sketching like a mad thing.
The humiliation is bad enough to send her running, but what she sketched is about to change the life she fought so hard for and the freedom from the serial killer that still haunts her.
The sketch is the same as the one that led her on the path to The Devils Breath Killer, with one faint detail that differs. Within the cage, made of ribs, tied to the human heart it houses a key, a key she recognizes from somewhere but cannot recall.
She tries to tell everyone the Cult has followed to her home county, and the killing will start soon, but no one will listen except the same FBI agents and her sister who had run from the law the last time.
This time they are in a third world country with none of the resources they need at their disposal to prove their case. The clues keep coming, and pieces of human bone gets sent to her, with taunting clues and keys to find and stop the killer – with each bone, another victim has been claimed.
And should the bone puzzle be complete – everyone she loves will die.
---
The Author: Carlyle Labuschagne
Carlyle Labuschagne is a South African USA Today Bestselling,  award wining, and international bestselling author with a flair for mixing genres and adding loads of drama to every story she creates.
She has traveled the world with her books in hopes of connecting with all kinds of book loving people, to learn as much as she can from other book cultures with the hopes of bringing the knowledge back to her home country.
For now she is happy to take over the world and convert non Sci-fi believers.
Her goal as an author is to touch people's lives, and help others love their differences and one another by delivering strong messages of faith, love and hope within every outrageous world she writes about.
To learn more about Carlyle, click on her name, photo or any of the following links: Facebook, Twitter, Goodreads, and Instagram
---
Tethered follows two sisters, Willow and Raine Viviers alongside two rogue FBI brothers on what seems like an impossible task to solving a dead end case.
With no leads, and a corrupt government cover up, their time is running out to stop the spread of a Serial Killer Cult before another victim is claimed.
But they have a secret weapon…
Willow is a young adult who has just undergone a heart transplant who's trauma has changed her. She's gained a strange supernatural gift – she can see into the heart of the Devil's Breath Killer.
---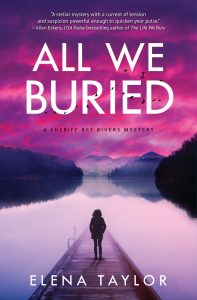 Elena Taylor is the author of All We Buried, available now in print, e-book, and audio book format at all your favorite on-line retailers. And don't forget many independent bookstores can order books for you and have them shipped to your home or for curbside pickup.
For more information on All We Buried, click on the link here to visit the home page.