Why We Write
Choosing only five reasons why we write merely scratches the surface of what compels us to put pen to paper, but I believe some of these reasons speak directly to the human condition. Here are five reasons why I believe I am compelled to write. I'd love to know what compels you.
---
Why We Write #1
1. We want people to hear us
Communication comes hardwired into the human experience. Children arrive in the world focused on the expressions and noises made by the adults around them.
Regardless of the country of birth or the language a child hears spoken by caretakers, learning to communicate is an active process that requires interaction.
We write, I believe, because we want people to hear our story.
We spend our lives communicating with people all around us, but  spoken language remains faulty and the experience of human engagement can be fleeting.
By writing our stories down, we  hone them and perfect the words we choose. This allows us to tell our stories exactly the way we want.
---
Why We Write #2
2. We want people to understand us
If people read our material, they can understand us in a more permanent way. It's not just memoirists who seek to be understood through writing.
Our fictional characters can represent our world view, and while our experiences may be vastly different than our characters (I've never arrested anyone for murder), how they think about the big picture is often in line with ours.
Writers also create the characters that are vastly different from ourselves through our own personal lenses.
---
If you want to understand me, read my fiction.
---
Why We Write #3
3. We want to be known
It's one thing to have people "understand" you – in a single-issue kind of way. It's another thing to provide people a well-rounded picture of you as an individual.
For example, it's one thing to know I love animals, it's another to know that I love animals and I love to travel  and I have taught university courses for more than twenty years.
We are each the sum of a vast number of experiences, and the more you "know" someone, the more complex they become.
Writers typically produce a lot of different stories. These different stories may have similar themes or characters or locations, but they each provide a broader and more complex picture of us. Each time we finish a piece, we're adding to the total picture of who we are.
Though can we ever really know another person? How well do we even know ourselves?
Sometimes by writing, we can gain insights into our own psyche.
---
Why We Write #4
4. We want to share our experiences
Life is more meaningful when we share events with others, regardless of how mundane those events are. This is both positive and negative, in that the mood of the group can have a tremendous impact on our own emotional state.
But part of the joy of sharing our experiences through writing is we can control our side of the story. And we can share our experiences with a wider group.
It's part of why talking about our writing can be intensely satisfying. We can share our experience through sharing our experience of writing.
---
We are all in this together.
---
Why We Write #5
5. We want to sign books
This may sound tongue-in-cheek, but I'm totally serious here. Writing a book is a huge accomplishment. It's one a lot of people would like to check off their bucket list, so finishing a manuscript is huge, and something we'd like acknowledgment for.
Getting published is an even bigger accomplishment. So signing books is a symbol of our success. It's a public acknowledgement that we succeeded at something very challenging.
It's also our way to interact with readers, thank them for buying our books and supporting our work, and having the face-to-face experience of engaging with the people who have read our stories in the past and will read our stories in the future.
Writing is cathartic and engaging, creative and fun. It's also a social contract we make between us and our readers, that we will treat our work with honesty and integrity. We will be vulnerable and open in our work if readers will meet us on the page, open and vulnerable to the emotional and intellectual experience we bring to them.
We want to engage on a deeper level with our readers. Trust me and I'll trust you.
---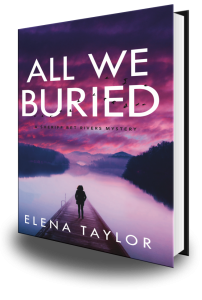 Wondering when you can see me at an event? I'd love to have you join me when I'm doing a talk, panel, or signing in your town! Click the link here for my Event Calendar.
---
We write because we love it – for so many reasons. I'd love to hear yours!
And – what makes us love to read?
Comment below to share your experiences.
---
Baby photo by regina_zulauf on Pixabay. Click the link here for more information.
Woman with hands on face by geralt on Pixabay. Click the link here for more information.
Girlfriends by cherylholt on Pixabay. Click the link here for more information.
Sharing a carrot with a horse by heathervalentin0 on Pixabay. Click the link here for more information.
Header photo by Free-Photos on Pixabay. Click the link here for more information.