This week I'm introducing three more
International Thriller Writers from the Debut Author Program: Jack Carr, Paddy Hirsch, and Nick Clark Windo.
These three guys definitely put the "International" into ITW. Two thrillers and a historical mystery, written by three fascinating individuals. Thanks for joining me!
---
The Authors
---
…is a former Navy SEAL who led special operations teams on four continents as a Team Leader, Platoon Commander, Troop Commander and Task Unit Commander.
Over his 20 years in Naval Special Warfare he transitioned from an enlisted SEAL sniper specializing in communications and intelligence, to a junior officer leading assault and sniper teams in Iraq and Afghanistan, to a platoon commander practicing counterinsurgency in the southern Philippines, to commanding a Special Operations Task Unit in the most Iranian influenced section of southern Iraq throughout the tumultuous drawdown of U.S. Forces.  Jack retired from active duty in 2016.
The Interview
What is one of your favorite elements in your debut novel? I was drawn to the theme of revenge because books with that theme always resonated with me.  I wanted to explore what could happen when someone with the training and experience born of the last 16 years at war abandons everything he believes in and essentially becomes the insurgent he's been fighting.  To really have nothing to lose he would have to believe he was dying which is one of the conspiratorial elements of the narrative.
I got that idea from the ancient Japanese code of honor known as Bushido.  I remember reading that Samurai would go into battle thinking they were already dead which made them more effective and efficient warriors.  I wanted to apply that mentality to a modern day warrior, hence the pharmaceutical tie in to the story which I got from studying the Church Committee hearings in the 1970s.  Combining these two elements put the protagonist, James Reece, in the mindset of an ancient Samurai as he applies his skillset to a list of conspirators that killed his team and his family.
What led you to writing your first novel? Writing is something I have wanted to do since I was very young.  My mom was a librarian so we grew up surrounded by books and she instilled a love of reading in us at a very early age.  I was also naturally drawn toward military service.  I always knew I would do those two things in life: serve my country in uniform and write.
While in the military I was solely focused on the task at hand as that is what I felt I owed the operators under my leadership, their families, the mission and the country.  As my time in the SEAL Teams was coming to an end it was time to give my other passion a shot.  The Terminal List is the result.
What are you working on now? The second novel is close to completion and I could not be more excited about it!  I don't want to give too much away for those that have read or are about to read The Terminal List, but I will say that some characters from the first book find their way into the second – which ones and in what capacity, that's the secret.
---
… is a journalist, broadcaster, online host and now a fiction writer.
He was schooled in Ireland and the UK, and spent ten years in the British Royal Marines before moving to Hong Kong to start a career in news. He has worked in every journalistic medium in a variety of countries, in Asia, Europe and the Americas. He is a specialist in business, financial and economic news, and his work appears regularly on National Public Radio in the US.
He attended Stanford University as a Knight Fellow in 2011 and has won several awards for his video work explaining financial terminology. In 2012, Harper Business published his book
Man vs Markets
, a tongue-in-cheek guide to the financial system.
The Devil's Half Mile
(Tor/Forge) is his first novel.
---
The Interview
What is one of your favorite elements in your debut novel? My favorite character is Kerry O'Toole. She's the mixed-race daughter of an Irish gangster and a former slave who escaped from a plantation. Her mother died in childbirth, and her father failed to educate her, so she has limited options. So she chooses her own path. I love Kerry because she's the character who developed most during my writing process. She's also become a way for me to develop all sorts of themes that I might have not touched on otherwise, many of which are particularly relevant today. In fact I'd say she is the character who most effectively connects the narrative to current events.
What led you to writing your first novel? I'm business and financial journalist. I wrote a book called Man vs Markets a few years ago, explaining the financial markets. I wanted to write a follow-up, a history of the New York Stock Exchange, to show how markets are developed and formalised. But it was SO BORING! Plus, I wasn't getting any actual writing done, as there was so much research to do. So I wrote a murder into the narrative, just to keep my hand in, you understand. And the murder kind of … took over. Like a succubus!
What are you working on now? 
Right now I'm editing the follow-up to
The Devil's Half Mile
. The working title is
Hudson's Kill
. And I recently started a third book, which has the working title
Half Moon Point
. Meanwhile I'm doing a lot of work editing podcasts that are focused on business and finance, which is giving me all sorts of inspiration!
---

… was a student in the Faber Academy "Writing a Novel" course. He studied English literature at Cambridge and acting at the Royal Academy of Dramatic Art, and he now works as a film producer and communications coach.
The Feed, his first thriller, was inspired by his realization that people are becoming increasingly disconnected from one another, as well as by philosophical questions about identity and memory. He lives in London with his wife.
You can follow Nick on TWITTER
---
The Interview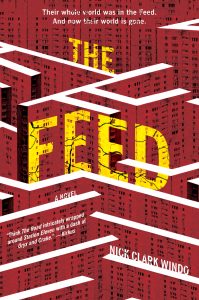 What is one of your favorite elements in your debut novel? Well there is a plot point that, in these technologically advanced days, I wish I could install a hidden camera into every book and watch people's reactions to. But obviously I can't say what it is!
There's a character who I grew to love, which surprised me a lot, because he's horrible. He's called the Pharmacist and he's a vindictive and dangerous person. But I realised while writing him how damaged he had been in the past. I thought a lot about why he behaves in the way he does and what's poisoned him; how pre-emptive attack is his best form of defence.
That's in no way to forgive him – he's a delightfully wrong'un, for sure – but I found it very interesting to begin to understand his motives and sympathise with his situation. The Feed, I hope, has a few such characters and situations. It's far from being a morally cut-and-dried world.
What led you to writing your first novel? I have a few other novels that I wrote first but haven't been published. I doubt they will ever see the light of day, but all of them were needed for practice. The ideas for The Feed were cooking in my brain for quite a while before I started writing. I knew themes, and I knew some plot points (the one I mentioned above, for example), but for some reason the story wasn't cohering.
Then I had insomnia for a while. I'd never had it before. And after a couple of weeks, I realised it was because I was checking Twitter until just before I went to sleep every night. The technology was directly affecting the rapidity of my dreams. When I woke up that morning, I had the title for the novel and also the thing that made all my ideas coalesce: what will happen to us as human beings when technology becomes fused with us…and then fails?
What are you working on now? Well there's a TV adaptation of The Feed which is about to go into production, which is very exciting. So there's more from the Feed world coming soon. That aside, I'm playing with a couple of ideas. One is very different in that it's set in the here-and-now (but not so different as it's a story about obsession and how it affects family). The other is similar in that it's a thriller with an apocalypse at its heart…though I'm more interested in the pre-apocalypse world for this one, rather than The Feed's post-apocalyptic one!
---